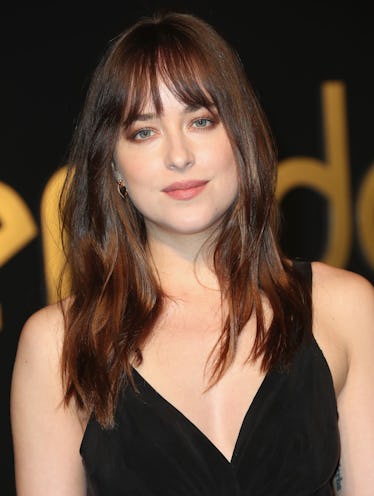 Fans Are So, So Happy Over Rumors That Dakota Johnson & Jon Hamm Are Dating
Frederick M. Brown/Getty Images Entertainment/Getty Images
Just call them "Jakota." Tweets about Jon Hamm and Dakota Johnson dating rumors might not confirm whether the pair is an item, but they sure do show that the internet wouldn't be mad about it. The duo were reportedly spotted sipping wine together at a New York hotel after the former Mad Men star hosted a charity ball, according to Page Six.
The report comes thanks to an enterprising sleuth who told the gossip outlet that they appeared to be having a "low-key" night. "They seemed to really be enjoying each other's company," the lucky witness told Page Six. The pair were reportedly seen together on Oct. 5, though the publication broke the news on Oct. 10.
The Fifty Shades star and Hamm have apparently enjoyed "each other's company" before. If you're aren't keeping tabs on this, quite frankly, stunning pair, they were last spotted together at Elton John's 70th birthday party in April.
Before being spotted again in a tête-à-tête at the Viceroy Central Park hotel, both actors were mostly flying solo since breaking up with their respective significant others. Hamm has reportedly been a single bae about town since he parted ways with longtime girlfriend Jennifer Westfeldt in 2015. Since then, he was rumored to be dating comedian Jenny Slate. That is, when he found time away from sporting the bulge that made the internet feel shook.
Johnson, on the other hand, has reportedly been playing the field since 2016, when she broke up Matthew Hitt, her boyfriend of two years. In January, she told Vogue of the split that "sh*t happens." "I think I'm a little bit heartbroken all the time, even when I'm in a happy relationship," she said.
No offense to their previous partners, but if these two are together, it's a glow up.
Hamm and Johnson's relationship — be it a friendship or something more — bridges the divide of their age gap. Johnson, who's 28, and Hamm, who's 46, have an 18-year age difference between them, which just so happens to be the duration it takes to achieve legal adulthood.
In a week where sexual assault allegations and gun violence have rocked the headlines, some fans of the rumored paramours remarked that they were happy to speculate about the "maybe" romance.
Johnson's fans were out in full-force around the rumors. Some said they hoped this was a sign she found happiness.
Others were, well, perhaps a little envious that Johnson might be getting the affection of Hamm. The universe acts in mysterious ways, but perhaps Johnson is getting her due.
Outside of the supportive fans and Hamm stans, Johnson had several backers who felt she was a queen all on her own. They remarked that Johnson is a goddess among mortals on this earth.
And doing just fine without a man.
So far, there's been no word from Hamm or Johnson about their rumored relationship (and their representatives did not immediately respond to Elite Daily's requests for comment). But, given their track record of speaking candidly about their partners, the internet might not have to wait that long for an answer. (It is also possible for two adults to enjoy a casual glass of wine together and keep it platonic.)
As for their professional lives, Johnson recently filmed a remake of the horror film Suspiria, where she plays a ballerina at a dance academy struck by a spate of gruesome murders. Hamm, for his part, has been easily carving out his career beyond AMC's hit show. He recently starred in the film Marjorie Prime, which delves into artificial intelligence.
Now, if this were the big screen, a romance between Anastasia Steele and Don Draper wouldn't be too far off. Draper, after all, was the original well-suited, silent and brooding type. I'd root for him over Christian Grey any day.