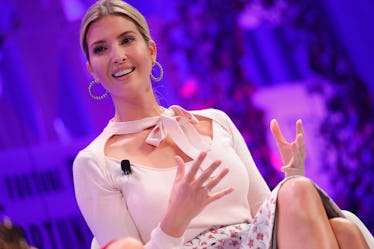 Ivanka Trump's Public Spotify Playlist Has Twitter Grossed Out & Yet Fascinated
Paul Morigi/Getty Images Entertainment/Getty Images
It's hard to really get below the surface of Ivanka Trump. She's always very poised, very shiny, and sounds like a well-trained masseuse when she talks. So, imagine the world's surprise and delight when the first daughter (accidentally?) publicly published her recent Spotify playlist, giving an unfiltered look at what happens when the cameras turn off, and powder pink dress gets folded neatly away in a drawer. Tweets about Ivanka Trump's Spotify playlist run the gambit between sheer disgust and total joy.
On Oct. 25, a Huffington Post reporter uncovered a playlist created by Trump, featuring five songs. The title of of the list is a super inconspicuous "991122," making it all the more apparent that Trump hadn't exactly created this mix for public viewing.
Annnnd (*drum roll*) those songs are:
"All of Me" by John Legend
"Ordinary People" by John Legend
"When I Was Your Man" by Bruno Mars
"You're Beautiful" by James Blunt
"When We Were Young" by Adele
Pretty depressing stuff, huh? I mean, "All of Me" is definitely a beautiful love song, but the rest are the kind of the break-up anthems you listen to while crying and questioning all of your life choices. Huffington Post writer Ashley Feinberg suggested that the playlist might have been created for Trump and Jared Kushner's Oct. 25 wedding anniversary night. That makes things even more confusing and sad.
The internet had similar feelings.
Some felt like the whole thing was TMI.
Others had some pretty specific feedback as to what songs should actually be on there.
Many, many felt the need to apologize to John Legend.
Oh yeah, and when one Twitter user accused Feinberg of specifically targeting someone from the Trump administration, she hit back with this gem.
Now, it's actually no secret that Trump and Kushner like themselves some pretty morbid music. Their wedding song was 'This Year's Love" by David Gray and, if you've never heard that one, here's a small sampling below:
But when you hold me like you do
It feels so right I start to forget
How my heart gets torn
When that hurt gets thrown
Feeling like you can't go on
Turning circles when time again
It cuts like a knife
If you love me got to know for sure
'Cause it takes something more this time
Yeah, so any references to knives and torn hearts aren't really imagery you'd expect from a wedding song, but to each their own. We all have our things. I will listen to the Beauty and the Beast soundtrack everyday, 'til the day I die.
'This Year's Love" also made its way onto Trump and Kushner's birthing playlist as well. As Trump told fitpregnancy.com,
Jared and I made a playlist for the delivery of all the songs from our relationship. Arabella was actually born while my wedding song, 'This Year's Love' by David Gray, was playing. It was a coincidence, but it was cool!
Unsurprisingly, Trump shares a very similar music taste with her father. In his book Think Like a Billionaire, the president wrote,
I heard the guest band, Toots & The Maytals, practising out on the set [of Saturday Night Live]. They sounded terrific, and I went out to listen to them for a while. My daughter Ivanka had told me how great they were, and she was right.
Oh, and Trump stands by his music taste — no matter what you think. He added,
In Trump Tower, we play a variety of music - anything from renditions of Moon River to versions of Rachmaninov's famous piano concertos. Some people call it cheesy, but others love it, and so do I.
If you love a certain kind of music, don't let other people's tastes influence your own. Whatever's the best for you is the best. Never forget that.
You hear that, Ivanka? Whether that oddly morbid playlist was for a romantic evening with Jared, or winding down after a long day, you do you. In the meantime, so sorry, John Legend. Can't WAIT to hear your snarky tweet, Chrissy Teigen.