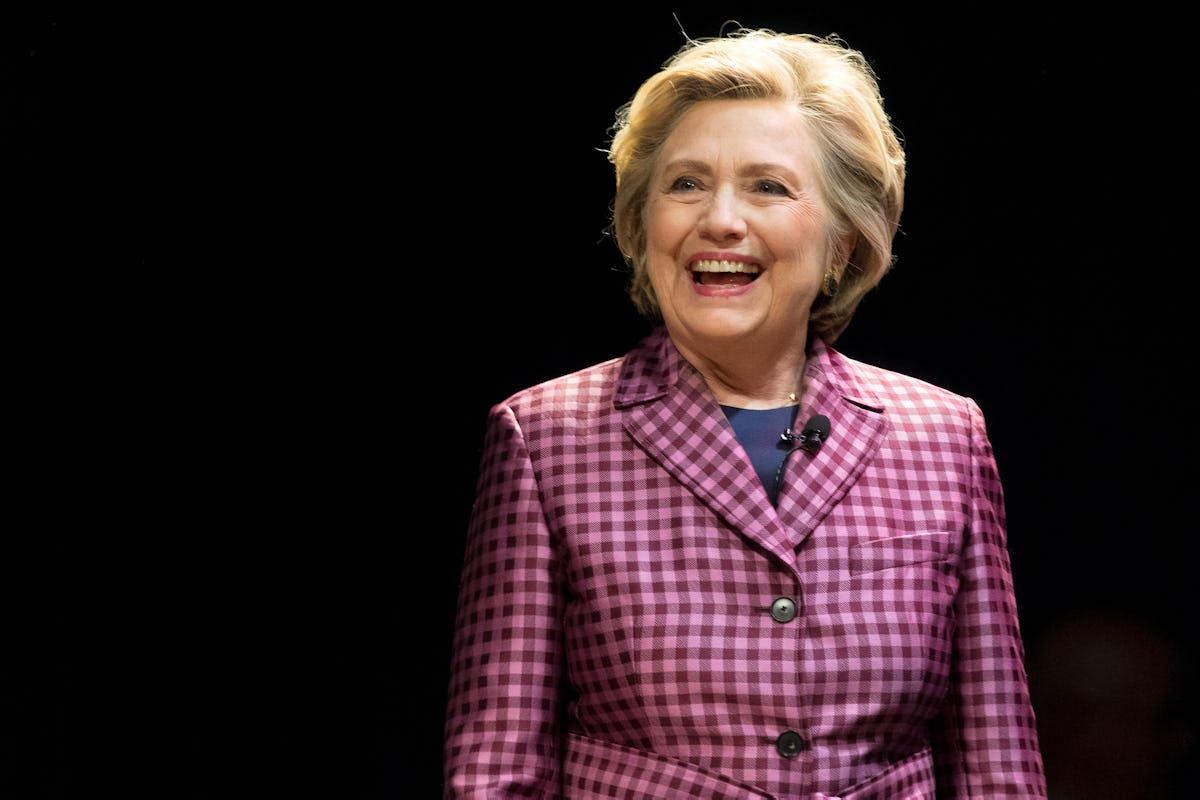 Twitter Is Celebrating Hillary Clinton's Birthday With The Most Inspiring Messages
Matthew Horwood/Getty Images News/Getty Images
Happy birthday to former presidential candidate, Sec. of State, Senator, and First Lady Hillary Clinton. The accomplished politician, author, and philanthropist turns 70 today, Oct. 26. And the well wishes have been pouring in: these tweets about Hillary Clinton's birthday are giving us #StillWithHer feels.
After last year's surprising — and, to many, devastating — election results, Clinton, who has been a long-time public servant, took some time to retreat from the public. Though she was spotted hiking the day after conceding the election, and she has since made several public appearances, Clinton has been much quieter than she was in the past three decades of public service. So seeing all of these tweets wishing the almost-president well is heart-warming, and gives us woulda-coulda-shoulda feelings.
Everyone from Clinton's other famous family members to some of her funny friends to clothing companies took to Twitter to say, "Happy Birthday, Hillary!"
Though SNL's Kate McKinnon has spent the last few years playing Clinton, it was Amy Poehler who perfected the pantsuit-wearing politician.
Which is why we're tickled by this birthday wish from Amy Poehler's Smart Girls organization — complete with a throwback to Poehler and Clinton enjoying a moment together on SNL.
Poehler isn't the only comedian who had something to say.
The official Twitter of The Late Show with Stephen Colbert toasted to Clinton.
And many others wished her a happy 70th — some of whom wistfully addressed her as President.
It's hard to forget how she made people feel, especially on a day when the love is pouring forth.
Husband and former President Bill Clinton gave a shout to his wife and partner.
She does look good — especially for someone who works so hard.
Portland-based women's and gender nonbinary clothing company Wildfang sent kisses via Cupid's arrows.
It was a little bit confusing seeing arrows at first? But they are clearly sending kisses to their #WomanCrushEveryday.
House Rep. and civil rights leader John Lewis sent a happy birthday that kind of stung.
Oh, my heart.
And while the well-wishes have been pouring in from everyone and their mom, there's one that stands out.
No message has been sweeter than daughter Chelsea Clinton's happy birthday tweet to her mother.
"Happy Birthday Mom!" the 37-year-old author and advocate tweeted. "So thankful for every birthday & every year we've shared. Looking forward to many more!"
And, true to many birthday messages for family members, she included a #throwback to an old-school shot of her mom rocking red frames while listening to Chelsea, who was sporting a rad pin-stripes-and-hearts shirt.
The pic shows Clinton fully rocking some Linda Belcher glasses and the same haircut that I currently have, which makes me... cool? Or lame. Either or. And Chelsea is obviously sharing some of the wisdom that only comes from young kids who have no idea what's going on around them.
Meanwhile, that cake looks delicious, and I wouldn't mind digging into those presents. What do you get for a first lady who is busy working on trying to pass a health care overhaul? A notebook? A thermometer — like, for a joke? (Because health care? Get it?)
It's unsurprising that the younger Clinton is using Twitter to share her birthday wishes for her mom with the world. She has consistently used the site to defend her mother from nay-sayers, including President Donald Trump (who has accused the Clintons of shady dealings) and a Fox News correspondent who said Hillary would sell Chelsea for the chance to be president.
And also just generally gush about her mom who is, after all, a pretty cool lady.
Say what you will about the Clintons (and you could say a lot), they definitely stick together.
Happy birthday, Hilz. Hope you're enjoying a nice, stiff vodka martini somewhere beautiful.