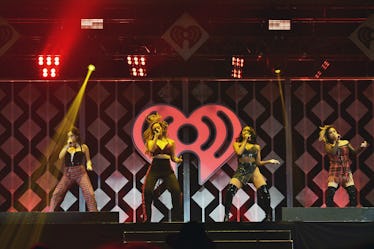 Fans Are Thanking Fifth Harmony After The Group Announced A Hiatus & It's So Emotional
Gustavo Caballero/Getty Images Entertainment/Getty Images
Bad news, Harmonizers. Fifth Harmony has announced that they are taking an indefinite hiatus to pursue their solo careers, and now my day is totally ruined! Dinah Jane Hansen, Normani Kordei, Lauren Jauregui, and Ally Brooke Hernandez shared the heartbreaking news via a collective Twitter post on March 19. "We've really had one hell of a memorable journey together and can't begin to express our gratitude to y'all for coming along with us on this wild ride!" they explained. Their fans are apparently feeling crushed, but also somehow equally as gratuitous, and their tweets about Fifth Harmony breaking up will give you all the feels. The hashtag #ThankYouFifthHarmony is already trending worldwide, you guys, and the outpouring of support is just so incredible!
The four singers addressed their fans directly in their tweet. "To our Harmonizers, thank you for everything we have been able to build as Fifth Harmony," they wrote. "With your love and encouragement we will continue to build on ourselves, support one another in everything we do, and keep making you proud, each other proud and ourselves proud." Super sweet, and their fanbase responded the only way they knew how — by expressing their disappointment, but also their eternal love and devotion using the #ThankYouFifthHarmony hashtag.
"We've grown up together," wrote one Harmonizer. "We've been there since the beginning and we always will, no matter what, for each one of you. Go explore yourselves. I know you're gonna make us all so damn proud. #ThankYouFifthHarmony."
"I will always call myself a Harmonizer even if the girls are not in a group anymore," added another. "I will always love them and I can't wait until they release their own albums. Thank you Normani, Lauren, Ally, and Dinah for everything I love you. #ThankYouFifthHarmony."
"I'm crying, but I wish them all the best and they have my love and support always," wrote a third. "#ThankYouFifthHarmony, you've taught me so much these past three years I've known you, I've learned and grown with you, thank you."
I'm not crying, you're crying! And the incredibly heartfelt sentiments didn't stop there:
Mine, too. I mean, even the One Direction fan base is chiming in to show their support, and nothing has ever been cuter.
How amazing is that? Of course, there were some tweeters who couldn't wait to throw a little bit of shade Fifth Harmony's way for basically kicking a fake Camila Cabello off the stage at the 2017 MTV VMAs after she announced her own departure from the group.
So yeah, there's that. But I still need to know what this all means. Will the four girls ever get back together? And if they do, will Camila join them? I'm gonna go ahead and say there's probably 20 percent shot at the first thing ever happening, and maybe an 8 percent chance of the second. And what about the girls' remaining performances as a group? According to the tweet from the foursome, the shows will go on as planned despite the new heart-crushing development.
"We do have some upcoming shows through the end of the year which will still happen as planned," they wrote on Twitter.
Great news! Are you now wondering where can you catch them on stage together before they disband? Join the club. Turns out, the girls will be performing in Hollywood, Florida on May 11; San Juan, Puerto Rico on May 13; and Reykjavik, Iceland on May 19. Hold on tight to those tickets if you're lucky enough to have them, Harmonizers, because this may be the very last chance you'll ever get to see Fifth Harmony perform.