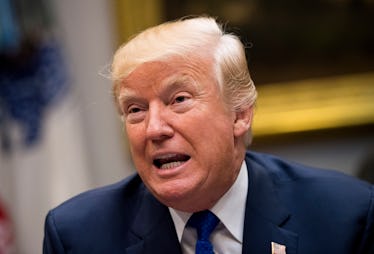 Disney's Hall Of Presidents Finally Has Its Trump, & Twitter Can't Stop Laughing
Pool/Getty Images News/Getty Images
It's official everyone — President Donald Trump has become an attraction at Walt Disney World. While this might sound seemingly unlikely, an animatronic version of Trump joins his 43 predecessors as a part of the theme park's historical Hall of Presidents exhibit. And if you're thinking that Trump's addition must look absolutely ridiculous, you're right. And the tweets about Donald Trump in the Hall of Presidents are too, too funny.
As of Dec. 18, Trump has been added to the theme park's historical attraction, the Hall of Presidents exhibit. According to The New York Times, the newly remodeled show is now 25 minutes long and includes the United States' 45th president as a part of the attraction. Trump is placed standing next to Abraham Lincoln, and looks seemingly identical to his actual self, with his hair coiffed just the real Trump's signature style that he's become known for, dark suit, complete with an extra long tie.
Although the attraction was set to officially open to the public on Dec. 19, photos and videos from the Hall of Presidents have been popping up on social media ahead of the grand opening date. And you know that when Twitter users get wind of Trump-related news like this, they're bound to start cracking jokes.
Twitter users pointed out the death stares that the other former presidents look like they're giving Trump.
And commented on the (needless to say) strange appearance of Trump's animatronic figure.
Yeah, the thing looks seriously creepy. But can you expect any animatronic figure to actually look good? I mean yes, Disney could have maybe put in a little more effort to not make the figure look quite as scary as it does. I mean, Walt Disney World is a kid's theme park after all, and I don't think that Disney wants to induce nightmares of this robot in their little visitors.
But creepiness aside, the robotic Trump isn't anything unusual. Since 1971, the Hall of Presidents has been a fixture at the Magic Kingdom park at Disney World Orlando. Visitors to the Hall of Presidents walk into the theater that looks like Philadelphia's Independence Hall, with all the animatronic presidents either waving or giving a speech during the entertaining history lesson of this country's politics and identity through government.
However, there was some controversy surrounding the addition of Donald Trump to the Hall of Presidents exhibit. According to the Times, Disney was criticized for not having the updated attraction ready by the July 4 deadline, which some Trump supporters felt was done deliberately by the company to silence him. There was also a petition that surfaced at the time of Trump's inauguration that requested that Trump's Hall of Presidents robot not be allowed to give a speech, citing his comments about marginalized groups such as "Mexicans, Muslims, women, and the disabled." The petition, which gained over 15,000 signatures, read in part:
The Magic Kingdom at Disney World is a place specifically designed for the enjoyment of children and families. Therefore, it is not an appropriate place for a Donald Trump speech. We ask that Walt Disney World take a stand against divisive and hurtful rhetoric[.]
But Disney insisted that the pushback was because Trump had not yet recorded his voice for the ride, and pushed back the opening date to "late 2017."
Well, that voice has now been recorded and is in full swing at the theme park. You can even hear what Trump's robot says in an exclusive sneak-peak clip that's been making the rounds on Twitter:
Fascinating.
Trump may be controversial, but he is the 45th president of the United States, and in Disney tradition he needs to be included in the Hall of Presidents attraction at Disney World. But if robot Trump is a Trump too far, at least Twitter exists to serve up some laughs and alleviate the agony.