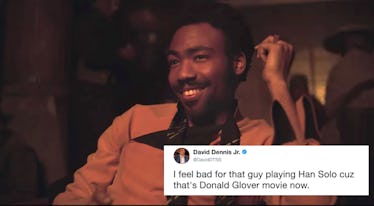 The Full 'Solo: A Star Wars Story' Trailer Is Here & Donald Glover Is The Real Star
LucasFilm
Star Wars fans had a really good reason not to sleep the morning after the Super Bowl. We got a brief teaser of the upcoming Han Solo standalone film during the big game on Sunday night, and on Monday morning, the entire first trailer for the new movie dropped. Obviously, there were a ton of things in the new Solo: A Star Wars Story trailer to be excited about, but at the top of the list was another glimpse at Donald Glover as a young Lando Calrissian. All the tweets about Donald Glover in the Solo: A Star Wars Story trailer prove that he is the real star of the new movie.
The first official trailer for Solo: A Star Wars Story finally dropped on Monday morning during Good Morning America. The first look at the upcoming movie shows Alden Ehrenreich as a young Han Solo, joyriding around on a hovercraft before Woody Harrelson's Beckett invites him to join his crew. In a voiceover, Solo explains his scrappy backstory:
I've been running scams on the streets since I was ten. I was kicked out of the flight academy for having a mind of my own. I'm gonna be a pilot, best in the galaxy.
Now, this movie may be all about Han Solo, but it is already incredibly clear that the actual star of Solo: A Star Wars Story is going to be Donald Glover. A veritable Swiss army knife of talents, Glover has already proven his comedy chops in Community, his dramatic prowess in Atlanta, and of course, his musical abilities under his wildly popular rap alter-ego Childish Gambino. Oh, and not to mention the fact that he is about to star in the live-action Lion King movie as Simba. But the next thing all Donald Glover fans are looking forward to is his role as young Lando Calrissian in Solo: A Star Wars Story. Although this new standalone flick is named after Han Solo, fans are way more excited about Lando. Check out the passionate response to Donald Glover's Lando Clarissian below:
The full one-and-a-half minute trailer follows a brief glimpse at the movie that aired during the Super Bowl on Sunday night. That teaser only gave fans a peek at Donald Glover's Lando Calrissian, who appeared in a flash decked out in a large fur coat. Monday morning's expanded trailer gave us some more to go off of, including shots of Lando grinning over what appears to be a card game and freaking out over Han Solo flying through the tentacles of some space beast.
Check out the full trailer for Solo: A Star Wars Story right here:
Along with the full trailer, Star Wars also gave fans the character posters for Solo: A Star Wars Story on Monday morning, which included shots of Alden Ehrenreich as Han Solo, Donald Glover as Lando Calrissian, Chewbacca, and Emilia Clarke as the newly introduced character of Qi'Ra.
Lando Calrissian played an integral role in the original arc of Star Wars films, popping up in both The Empire Strikes Back and Return of the Jedi, portrayed by Billy Dee Williams. In those movies, we are introduced to Lando as an old friend of Han Solo's, a fellow scoundrel who actually originally owned Solo's iconic ship the Millennium Falcon. Though we see Lando help the team out in both of those original movies, much of his backstory is still left up in the air, so fans are really looking forward to getting some details about Lando's early life and how his relationship with Han Solo started in Solo: A Star Wars Story.
Solo: A Star Wars Story lands in theaters on May 25.