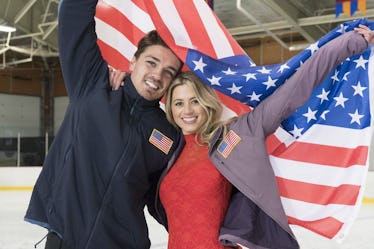 Dean Wore Eyeliner On The 'Bachelor Winter Games' Finale & Twitter Lit Up
ABC
During the remaining four couples' ice skating competition on Bachelor Winter Games, Dean had viewers laughing before the skating program even began. We know that the man-child has a tendency to make light of things, and such was the case when he chose to rock some eyeliner for his routine with Lesley. Tweets about Dean's eyeliner on Bachelor Winter Games sum up every range of emotion I have about this decision.
As they have with all past athletic challenges, Lesley and Dean entered the competition feeling confident in their abilities and the power of their chemistry. Maybe it's just me, but if you have to keep reminding everyone about your chemistry, don't you have to wonder if you actually have any?
Anyway, because Bachelor spinoffs love to poke fun at themselves in a way that the main show doesn't, a hilariously bad montage of the couples preparing for their skating competition included the shot of Lesley helping Dean apply eyeliner as if his life depended on it. The result honestly made him look like a long-lost member of One Direction, but if Lesley is into it, I guess Dean doesn't regret it.
Of course, while Twitter often has a fondness for Dean that I certainly don't understand, the internet definitely seemed to unite in its negative opinion of the style choice.
In typical Dean and Lesley fashion, the two hit the ice and wobbled through a routine that, in their minds, was worthy of a gold medal (or, you know, whatever bragging rights the "winners" of Winter Games get). I mean, if you're happy in your oblivion together, it's fine, right?
Even though Kevin and Ashley were deemed the first victorious "Bachelor World" couple, Dean and Lesley were still confident in their bond upon the wrap of the show. As Dean said, if a man ends up with someone who supports his guyliner, she's a keeper.
Despite their drama-free relationship on Winter Games and the essential confirmation that the two remain a couple today, fans on Twitter are still pretty skeptical about Dean's actions on Bachelor in Paradise less than a year ago. Does someone really jump from The Bachelorette to balancing two women on Paradise to finally finding love on a brand new spinoff... all within a year?
News of the two's relationship first hit social media in January, a month before Winter Games even premiered. Since then, there's been no doubt that the two are still together, appearing in an video with Entertainment Tonight and essentially revealing why Lesley so willingly connected with Dean despite his Paradise reputation. Lesley spilled in the video on why Dean appealed to her:
I didn't watch Paradise, and I really didn't watch Rachel's season because I'm all over the world all the time. I didn't know much about Dean, I saw his cute little face and his big blue eyes, and it kinda just went from there.
Rumors of the two being that mystery couple that emerges from the reunion engaged also flew around Twitter, thanks to that always trippy Bachelor editing. However, proving that Dean is still a bit of a man-child at heart, he acted as if he was proposing to Lesley at the reunion, but actually just gifted her with a key to his house.
I can always count on Twitter for snark on Dean, huh?
While nothing has been confirmed about Dean's current use of guyliner, it seems that he and Lesley have found a happy ending for themselves for now. If anything, Dean's "journey" over the past year has proven just how intense a few months in your 20s can be. Good luck to him and Lesley as they spend even more time together (and share eyeliner?)!