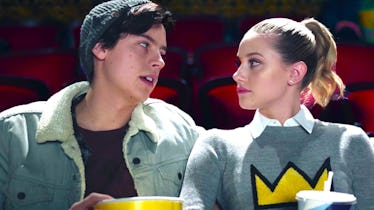 7 Tweets About Bughead's Breakup On 'Riverdale' That Will Make You Sob
The CW
Did you wake up with a #Bughead-induced hangover this morning like we did? Last night's twisted rollercoaster of an episode, "When a Stranger Calls," did the unthinkable (OK, we kind of saw it coming...) and tore apart one of TV's favorite high school sweethearts. Not only is The Black Hood on a town-wide murderous rampage, he also destroys families, friendships, and important romantic relations. If you're feeling the sting of Betty and Jughead's agonizing situation, you're definitely not alone. The tweets about Bughead's breakup on Riverdale are only making us more depressed about the whole thing.
Oh, Bughead. But everything was going so smoothly... WRONG. There's a killer on the loose and he's terrorizing poor Betty and using up her cellphone minutes like there's no tomorrow. Seriously. We will never listen to that once-innocent "Lollipop" ditty the same way again. Anyway, The Black Hood has more on his mind than coldblooded murder. He's also a life-ruiner. He ruins lives. And he wants Betty to pretty much say goodbye to everybody she's close to... or else. Or else what, you might ask? Oh — her entire family will die and nobody will ever be safe again. We guess that's a good enough reason as any to break up with someone. But why?! When Riverdale insiders teased that Season 2 was going to be dark, they meant it. Things are getting intense.
Devastating.
And to top it all off, Archie had to be the one to break the news? That's gotta hurt. At least Jughead was wise enough to sort of know that Betty isn't the heartless type and would never play him like that. Jughead, use your (jug) head. She's just trying to watch out for you!
"It is sad and heartbreaking to see her have to do that," Lili Reinhart told Extra. "And you know it is to protect him and she does all these things to protect them. And they don't know, and the audience knows, and that is what is so hard to see."
But what will become of Betty and company? How can she ever recover from all this social devastation? Lili went on,
As for Betty and Jughead at the end of [episode] 205, you hope that there is a chance that Betty can have in the future to explain herself and to reconcile with him, but with the Black Hood still being a present figure in her life, it is hard to imagine that her relationship with anyone can continue or go back to the way that it was.
In addition to everything else brewing, Jughead's Serpent ways are reaching a fever pitch and now that Toni Topaz is in the picture... Yeesh.
But don't get it twisted. According to Vanessa Morgan, who plays Toni, her character and Jughead clearly have a connection that is deeply-rooted in their shared pasts and personalities and she's just misunderstood. She elaborated to Us Weekly,
The biggest misconception is people calling her a bitch. She's not. She's a have-not. She comes from a hard background. Maybe she doesn't have a home life. She's not being a bitch, but she's a gang member. She's a harder girl. She's always with the guys communicating, so that's just what she's used to.
So, what will happen next? Members of our beloved Scooby Gang are dabbling in the dark side in one way or another, whether it's Jug's South Side leanings or Betty's new phone-a-friend, The Black Hood. Does #Bughead stand a chance right now? According to the trailer for the sixth episode of Season 2, Riverdale is on the verge of becoming a "police state." It also looks like there's going to be even more friend v. friend tension on the horizon. How much more can we take?!