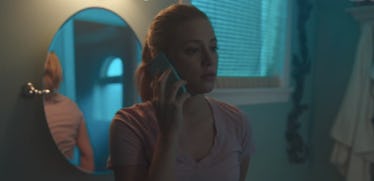 Betty's Ringtone For The Black Hood Is Officially The Creepiest Part Of 'Riverdale'
The CW
This season of Riverdale has gotten darker and more mysterious with each new episode. This week is no exception; Jughead is officially a Serpent, Nick St. Clair is causing all kinds of trouble in Riverdale, and the masked sociopath known as the Black Hood has been calling and harassing Betty, forcing her to cut people like her mother, Veronica, and Jughead out of her life before he kills them. As suspenseful, ominous, and terrifying as all of that is, though, none of it is nearly as creepy as Betty's ringtone for when the Black Hood calls.
That's right, on a show filled to the brim with incest, student/teacher relationships, murder, and a gang member who goes by the name Sweet Pea (amongst a laundry list of other weird things teenagers to have to deal with), the creepiest part is definitely that Betty's ringtone when the Black Hood calls is the inappropriately upbeat song "Lollipop" by The Chordettes. I mean, nothing says "I'm about to converse with a maniac" like a song with the primary lyrics "Lollipop lollipop, Oh lolli lolli lolli, lollipop, lollipop, Oh lolli lolli lolli, lollipop, lollipop, Oh lolli lolli lolli, lollipop," am I right?
Couldn't she choose a song that more accurately reflects the terrifying nature of late night phone chats with the Black Hood? Or, like, put her phone on vibrate? I have so many questions that need to be answered, first and foremost, Betty, WYD?
Creepily unfitting music aside, Riverdale has been delivering everything it promised us this year. Indeed, according to Lili Reinhart in an interview with TVLine in October, the writers are "[T]reating this season very much like a dark thriller," adding, "Even when we're all having conversations as a friend group in the student lounge, or at Pop's, there's kind of an air of doom and gloom hanging over our heads."
Of course, the show's dark, thrilling atmosphere is what got us all hooked last season, and it's certainly what keeps us coming back every week for new episodes, especially now that Betty is at the center of it all, working with the Black Hood.
Lili Reinhart spoke with Teen Vogue ahead of this year's Riverdale premiere where she opened up about what it's like to have her character so heavily involved in this season's mystery; the actress said,
The mystery in the first half of season [two], at least, heavily involves Betty, which has been pretty intense for me, and for my work schedule. And just character wise, it's been a lot. And it's been challenging and difficult — long days, and long nights. But, I mean, honestly, I'm so happy that we're able to dive deep and show this different, whole new side of Betty, this broken side of Betty. You just see her world expanding a little bit. You see her darkness come to the surface. You see so many different layers and sides of her. Same with every other character. You're just digging deeper, and exposing these sides of these people that you haven't seen before.
She continued by talking about how Betty's mental health is affected by the drama in Riverdale this season, and what that means for her character and the show; she said,
[Betty's] internal struggles and her anxieties and her demons are coming out, as much as she tries on a daily basis to push them down and ignore them.
She went on,
[S]eason two becomes a boiling-over point for her where she kind of lets go and lets the darkness come out. She lets that dark side of her live a little bit, and come to the surface and stay there. It's not just a moment in a hot tub. It's something much more intense and much more real than that.
As for what we can expect to see in the rest of the season from Betty and the crew, the show's executive producer, Roberto Aguirre-Sacasa told Entertainment Weekly earlier this year, "We're putting [Betty] through the fires like never before. I can't say too much because there's a couple of big twists, but Betty is absolutely at the heart of the darkest story we're telling this season."
Clearly we're just in the beginning of Betty's dark journey; if the Black Hood keeps harassing her, which, let's face it, we all know he/she will, then we can definitely expect to see more of the huge twists Aguirre-Sacasa promised.
Until then I guess I'll just be trying to get "Lollipop" out of my damn head.
Check out the entire Gen Why series and other videos on Facebook and the Bustle app across Apple TV, Roku, and Amazon Fire TV.