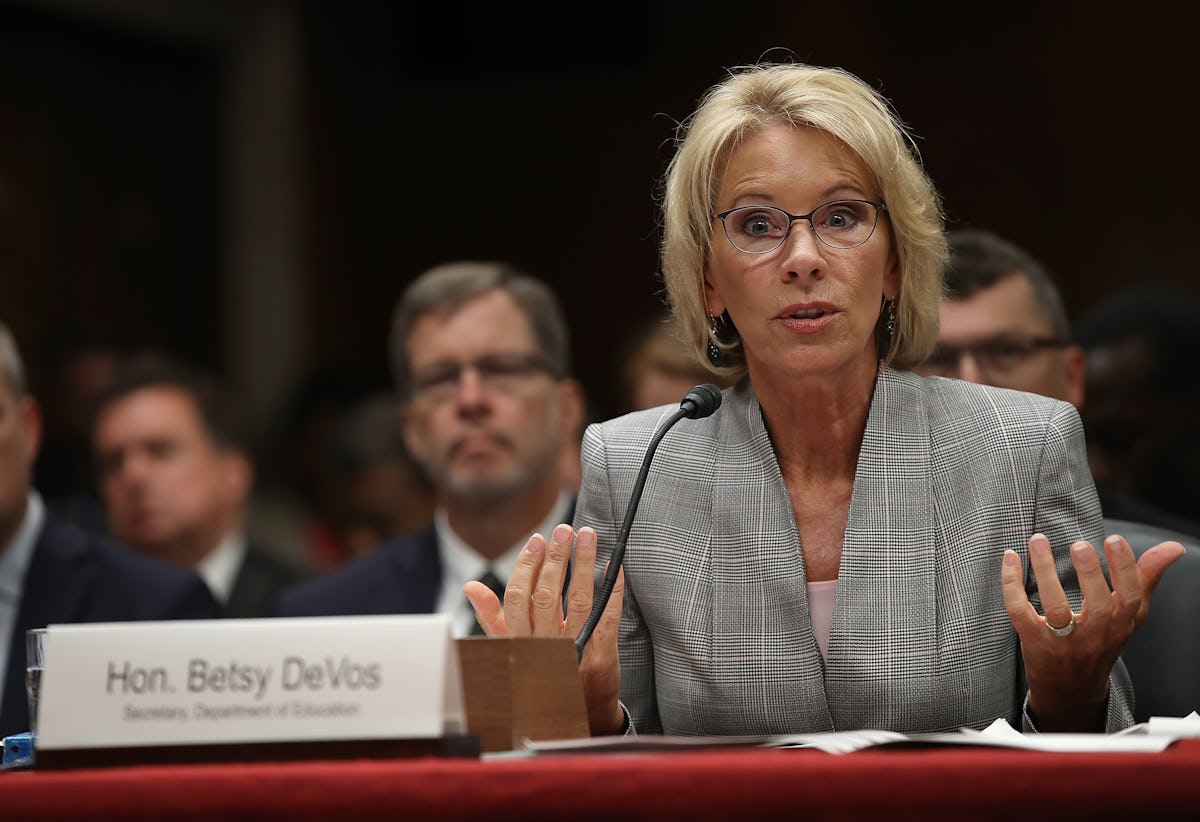 Twitter Is Slamming Betsy DeVos For This Awful New Policy On Transgender Students
Win McNamee/Getty Images News/Getty Images
The U.S. Department of Education has taken a stance on how they'll handle bathroom complaints filed by transgender students. On Monday, Feb. 12, BuzzFeed News reported that the Education Department had confirmed that they will not investigate or take any action on the complaints filed by transgender students who are banned from using the bathroom that correlates to their gender identity. U.S. Secretary of Education Betsy DeVos is no stranger to outrage toward her Department's decisions, and these tweets about Betsy DeVos' transgender bathroom decision prove that people are furious over the decision.
The Department of Education (DOE) spokesperson Liz Hill told BuzzFeed News on Monday that the Department holds the position that trans students' restroom complaints are not covered by Title IX (which prohibits discrimination based a student's sex in educational institutions that receive federal funding). Hill reportedly explained that the DOE operates on Title IX's prohibition of discrimination based on sex, not gender identity, when it comes to bathroom protections. Hill also relayed that certain types of complaints from trans students (excluding bathroom-related issues) may be investigated.
This interpretation of the law is in conflict with the decisions of two federal appeals courts, which have held that Title IX does, in fact, guarantee transgender students' the right to use the bathroom that matches their gender identity. It is also noted that lower courts have been divided on the issue.
Since the term "sex" isn't explicitly defined in Title IX as the sex as identified at birth or an individual's gender identity, the ambiguity of the term has led to these conflicting stances on the matter.
What's not uncertain, though, is the reaction from many people on Twitter.
There are an overwhelming number of responses that have slammed DeVos and the Department of Education for taking what many view as a discriminatory stance on the very serious issue of transgender students' bathroom rights.
People were quick to cite DeVos' previous statement about "hurtful" criticism in tandem with this most recent decision.
DeVos was recently quoted as saying, "It's hurtful to me when I'm criticized for not upholding the rights of students," according to Politico. Given that sentiment, some people interpreted this transgender student bathroom stance as an instance of DeVos failing to uphold the rights of students.
"Also Betsy: refuses to uphold student rights."
"While @BetsyDeVosED plays the victim over criticism she receives, she's also endangering children all across the country."
Given the differing opinions regarding the letter of the Title IX law, it was suggested that this stance might be more of a legal matter.
"See you in court, Betsy."
Beyond the seemingly discriminatory nature of this latest stance taken by the DOE, some people questioned why others believe it necessary to take such actions.
"I wonder what it's like to fear what I don't understand. It must be exhausting."
Overall, the perceived message sent to transgender students from the DOE did not sit well with many people.
Debra Hauser, President of Advocates for Youth, expressed her disappointment with the DOE's decision to take this stance. She said,
This is blatant dereliction of duty by the Department of Education. Keeping all students safe is part of their job. Enforcing rules against discrimination is their job. Transgender young people have the right to lead healthy lives and get an education, and that means the Department of Education must ensure these students aren't harassed and attacked in locker rooms, restrooms, or anywhere else at school.
"Massively disappointing. It's on us to make sure our schools are safe spaces for our students."
"This is the government telling trans kids that their ability to exist safely and comfortably in their daily lives does not matter."
"Because it's important to this administration that trans people live in constant fear."
"This isn't only stupid and regressive, but it will increase stigmatization, bullying and intolerance for transgender youth."
Sage Carson, Manager at Know Your IX, expressed the organization's support for the transgender student community in a press release on Monday, Feb. 12. She said:
Know Your IX stands by the fact that all young people have the right to equal access to education and that Title IX's prohibition of sex discrimination in education means that schools are required to address gender-based harassment and violence whether that's sexual assault or the bullying of a trans student. That's why Title IX requires schools to let transgender students use the restrooms, locker rooms, and other gender-segregated facilities consistent with their gender identity — so trans students can participate fully in all the educational opportunities their school has to offer.
The conflicting rulings surrounding the issue of trans students' bathroom rights appear to leave more room for discussion, but as of now, it seems, the Department of Education will no longer investigate any trans student bathroom complaints.