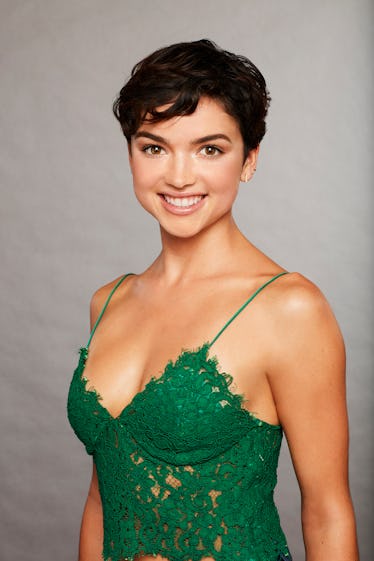 'The Bachelor' Left Out One Detail About This Contestant & Fans Are Losing It
ABC/Craig Sjodin
If you're a faithful member of #BachelorNation, chances are you rang in New Year's Day with Arie Luyendyk Jr. and the 29 contestants competing for his heart. Yup — The Bachelor Season 22 officially kicked off on Jan. 1 and things are already off to a ridiculous start. Case in point: The great mystery surrounding how old one of the ladies actually is. Tweets about Bekah from The Bachelor prove that fans are already confused about her whole age thing.
As we saw in her intro, Bekah is a gorgeous and free-spirited nanny from Los Angeles who enjoys rock climbing in her free time. "I'm like a mix of gentle and nurturing, but punctuated by moments of excitement and adventure," she described. "I know that Arie is a former race car driver which is like, a good sign. I'm a very adventurous, spontaneous person. I'm excited to possibly fall in love."
From what we know at this point, Bekah seems like a great contender for Arie's affections and her personality (not to mention distinct haircut) stand out in a sea of gowns and spray tans. Another thing that stands out? The fact that her age was omitted when she was introduced. That little detail definitely has the audience wondering what's up.
If you've been paying attention to the show prior to big premiere, you probably already know that this mystifying situation was on people's minds going in, considering ABC left Bekah's age out of her ABC online bio. The plot thickens... but not really. Methinks this has something to do with drumming up the drama and intrigue around how old Bekah is, since that question appears to be a key plot point throughout the upcoming season.
"I wonder if her age is going to be a dealbreaker..." we can hear someone say in the trailer for what's to come. "I think she's reluctant to tell Arie how old she is," Chelsea then tells the camera. Cut to Bekah crying, "I'm just sick of talking about this..." Yeah, we kind of are too and we're not even at the second episode yet?
No matter what drama ensues related to this whole age thing, it's apparent that Bekah and Arie are going to hit it off regardless of what's up behind the scenes. "You make me smile every time I see you, like, on an extreme level which I love," Arie tells her in the promo. "I mean, I haven't stopped smiling," she responds. There's also a blink-and-you'll-miss-it shot of them making out in a hot tub, so... she's probably not going anywhere any time soon.
The thing is it's 2018 now and there's this thing called the Internet. Spoiler alert! Bekah isn't a bionic robot, she isn't pulling an Outlander and time-traveling from another era, and she's not an old lady trapped in a young attractive body due to an ancient spell. Now that would be a good story! This is really a non-issue, because apparently the woman is 22 years old. Sure — that's on the young side, yet most of the ladies on this show appear to be in their mid-20s anyhow. So, what's the big deal again?
And who's to say Arie even cares? This year's leading man claims he's not about the drama going down in the house, according to a recent interview about his season:
I really try to concentrate on my time with that individual. I think that as a Bachelor, you really don't see what's happening in the house. You really only hear kind of through the women telling you sort of what drama is unfolding... So, for me, I try to cast aside and really give this person in front of me the benefit of a doubt because it is a difficult experience. It's not an experience everyone handles the same. And just because they're popular in the house doesn't really make them a good life partner.
There you have it. Will the curious case of the contestant with the missing age continue next week on The Bachelor? Probs. We'll be watching.