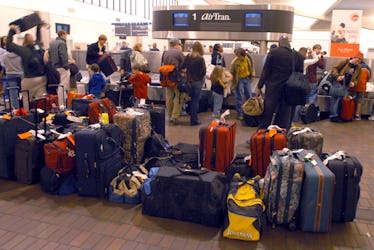 Tweets About This Airport's Power Outage Are An IRL Holiday Travel Nightmare
Barry Williams/Getty Images News/Getty Images
With Christmas Eve just a week away, holiday travel is officially in full force. Unfortunately, for passengers flying in to or out of Atlanta, Georgia, on Sunday, Dec. 17, their plans hit a little snag thanks to a power outage at a very busy airport. These tweets about Atlanta's Hartsfield-Jackson Airport will make you wary about traveling home for the holidays.
As passengers made their way through security lines and to departure gates, they found their travel plans coming to halt. A message tweeted out around 2:30 p.m. ET on Dec. 17 from the Hartsfield-Jackson Airport informed passengers that the Federal Aviation Administration (the FAA) had set a ground stop in place, which means that flights coming to Atlanta are to be held on the ground at their departure points. This news came just about an hour after the Hartsfield-Jackson Airport announced via its Twitter account that there was a power outage in the airport.
A press release tweeted by the Hartsfield-Jackson Airport at 4p.m. ET on Dec. 17, stated that "the cause of the incident still remains under investigation." Yikes. I don't think anyone put "massive flight delays" on their Christmas wish list.
Here is the original message regarding the power outage.
Then the ground stop was announced.
People were not pleased, to say the least. From the looks of the responses on Twitter, there seems to have been a lack of communication between the Atlanta airport and passengers. After reading some of these tweets about the Hartsfield-Jackson Airport power outage, you might find yourself looking up driving directions to your holiday destination.
Passengers stuck on planes were not here for it.
"Wow, thanks for the update..."
Confused travelers waiting to board had no idea why the power went out.
Delays are bad, but delays in the dark are so much worse.
The wait to deplane was extended — in the dark, no less.
"It's pretty dark in here."
Apparently, the pilots were out of the information loop as well.
You do not want to p*ss off the pilots.
Seriously, the passengers were turning into reporters.
Pilots were seeking details wherever they could get them.
"Literal pandemonium."
C'mon, Hartsfield-Jackson Airport, isn't baggage claim bad enough already without adding a power outage?
This optimist looked at the bright side.
"Still better than the time there were no bathrooms working at LAX!"
Someone had a simple suggestion to bring the power back.
Hopefully this gave some of those passengers stuck in the dark a chuckle.
Some passengers just had one goal.
"I JUST WANT OFF THIS DAMN PLANE."
As of about 5:15 p.m. ET, the Hartsfield-Jackson Airport Twitter account had not confirmed the cause of the power outage. The account retweeted a report from the Atlanta Journal-Constitution that named the source of the outage as a power line cut by construction crews, but the Atlanta airport refuted the story and said that it was not confirmed.
The passengers headed in and out of Hartsfield-Jackson Airport have not been experiencing the holly-jolliest of travel days today, so as you prepare to head to your holiday destination, be thankful you're not stuck on a dark tarmac today.
In fact, if you do plan to travel by plane this month, you can do your best to avoid long security lines at the airport by doing your due diligence before you get there. All you have to do is head to the TSA website to check the wait times before you even leave the house.
Holiday travel can be quite trying (even without power outages), so it's best to be prepared to ensure that you can travel with ease this holiday season.
Check out the entire Gen Why series and other videos on Facebook and the Bustle app across Apple TV, Roku, and Amazon Fire TV.