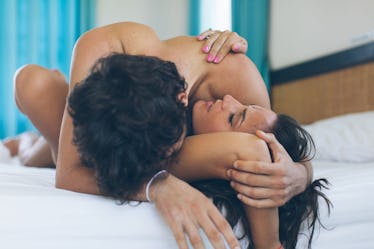 4 Sex Moves To Try If He's On The Bigger Side, Because They're Fun
I recently briefly dated a man who was 6'8" and instead of asking me questions like, "What does he do?" or, "Is he nice?", all of my friends immediately wanted to know "how big is it?!" Seriously. In life, the general consensus is that bigger is better. Bigger paycheck, bigger apartment, bigger dreams. But in bed, size is not always everything. Certain positions can be, um, untenable, and your partner's size can actually be limiting. But don't worry! Try a few of these sex positions if he has a big penis.
Don't just take my word for it. I connected with Stephanie Alys, co-founder and Chief Pleasure Officer of MysteryVibe, and talked all things size and sex. "It's important to acknowledge there is no direct relationship between penis size and sexual pleasure," she explains. The belief that a big penis reflects superiority in the bedroom stems from patriarchal ideals that are overall harmful to our sexual attitudes."
Also remember that your size and shape is half of the sex-quation in the sack, and every body is different. Alys recommends, "Discover your preferences no matter what shapes and sizes you and your partner bring to the bedroom." Here we go...