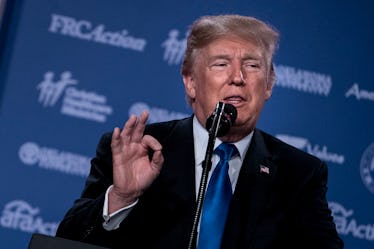 Trump Talked About A "War On Christmas" In October, For Some Reason
BRENDAN SMIALOWSKI/AFP/Getty Images
On Friday, Oct. 13, during an address at the Values Voter Summit, President Donald Trump hammered home one of his most emphasized points with two words usually reserved for December: "Merry Christmas." More specifically, the speech — delivered at the summit in Washington D.C. — made a bold claim about bringing the term back. During Trump's Values Voter speech, he said,
You know we're getting near that beautiful Christmas season that people don't talk about anymore. They don't use the word Christmas 'cause it's not politically correct. You go to department stores and they'll say "happy New Year," they'll say other things. It'll be red, they'll have it painted, but they don't say it. Well, guess what? We're saying "Merry Christmas" again.
The president made that assertion after separate proclamation while on stage at the Omni Shoreham Hotel in Washington D.C. He said,
We are stopping cold the attacks on Judeo-Christian values.
The Values Voters Summit is an annual political conference attended yearly by a group that identifies as conservative Christians and is sponsored by the Family Research Council, a group which itself is criticized for its views on LGBTQ+ issues. On Friday, Trump became the first sitting president to speak at the conference, though he had spoken there before, when he was a presidential candidate.
During his appearance at last year's summit, he said,
A lot of people said: 'I wonder if Donald will get the evangelicals.' I got the evangelicals. I'm going to make it up to you, too. You watch. There are no more decent, devoted or selfless people than our Christian brothers and sisters here in the United States.
The moment during Trump's speech at this year's summit when talks about saying Merry Christmas can be seen in the video below:
The president used the address to touch on many subjects most important to the religious members of his base while also pointing laying out his agenda. In doing so, Trump alluded to one of his most recent action, working around Congress and using the power executive order to undo key parts of Obamacare. He said,
We're taking a little different route than we had hoped, because getting Congress – they forget what their pledges were. So we're going a little different route. But you know what? In the end, it's going to be just as effective, and maybe it'll even be better.
Trump's mention of a "different route" is clear allusion to his decision to end the cost-sharing subsidies (CSR) that former President Barack Obama's administration had been paying insurance companies to help control the costs of insurance plans that the companies offer as part of plans made available via Obamacare. In the past, Trump had threatened to stop paying the CSRs, which prompted fears that the insurance market would become unstable and plans would become unaffordable for low-income families. Still, the Trump administration continue to pay the CSRs. That is, up to this point.
Another feature of Trump's agenda that he mentioned was the next big target for Republicans in Congress: passing tax reform laws.
The president said during his speech on Friday,
And as a Christmas gift to all of our hardworking families, we hope Congress will pass massive tax cuts for the American people. That includes increasing the child tax credit and expanding it to eliminate the marriage penalty. Because we know that the American family is the true bedrock of American life.
The child tax credit important to both President Trump and his daughter, Ivanka Trump, who has been taken up tax reform as an important issue for her to work on. Still, neither tax reform nor Obamacare was as notable within Trump's speech as his allusion to the oft-cited "war on Christmas."