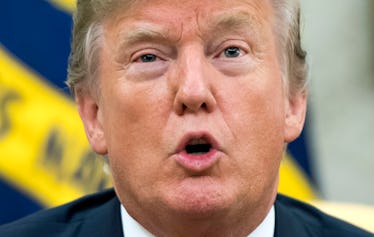 Trump Tweeted About The Super Bowl & It Was NOT What Anyone Expected
Pool/Getty Images News/Getty Images
It's the moment we've all been waiting for, and also dreading. On Feb. 4, the biggest day in the NFL commenced, and the Philadelphia Eagles took home the Lombardi Trophy. So of course, the president had to get in on the conversation. Trump's tweet about the Super Bowl was super underwhelming, and we should have expected it.
Shortly before game day itself, on Feb. 1, Trump announced that he would not be taking part in the presidential Super Bowl interview that's been in place since George W. Bush's administration. This may be due to Trump's disapproval of the NFL, or maybe because the game will be aired on NBC, a network Trump is also not a huge fan of. However, during last year's Super Bowl on Feb. 3, which was sponsored by FOX, Trump sat down with Bill O'Reilly for a prerecorded interview. In addition, while in Davos, Switzerland, Trump sat down with the likes of CNBC's Joe Kerren and ITV's Piers Morgan. He has also agreed to interviews from The Wall Street Journal and Reuters in 2017.
Either way, Trump denying an interview request from NBC shouldn't really surprise anyone. So as Trump continues to pout over the NFL, it appears that he's not opposed to tweeting from the comfort of his own home. He simply tweeted, "Congratulations to the Philadelphia Eagles on a great Super Bowl victory!"
It's no secret that Donald Trump isn't the biggest fan of the NFL at the moment. Despite him owning a football team in 1983, he's openly voiced his thoughts on how football has apparently become "soft." During a 2016 rally in Reno, Nevada, to promote his presidential campaign, Trump compared football becoming "soft" to America.
He said,
Now they tackle. 'Oh, head-on-head collision, 15 yards.' The whole game is all screwed up. You say, 'Wow, what a tackle.' Bing. Flag. Football has become soft. Football has become soft. Now, I'll be criticized for that. They'll say, 'Oh, isn't that terrible.' But football has become soft like our country has become soft. It's true. It's true. The outcome of games has been changed by what used to be phenomenal, phenomenal stuff.
In addition, Trump has vehemently opposed the NFL's acts of protests by taking a knee during the National Anthem, and has shared those views numerous times via Twitter.
This tweet follows a Huntsville, Alabama rally which Trump held on Sep. 22, 2017. A large portion of the rally consisted of Trump discussing the NFL protests, and he definitely didn't hold back.
He said,
Wouldn't you love to see one of these NFL owners, when somebody disrespects our flag, to say, 'Get that son of a bitch off the field right now. Out! He's fired. He's fired! You know, some owner is going to do that. He's going to say, 'That guy that disrespects our flag, he's fired.' And that owner, they don't know it but they'll be the most popular person in this country.
These comments have resulted in immense backlash from both the public and football players alike. On Sep. 22, 2017, following the rally, Minnesota Vikings running back Bishop Sankey condemned Trump's use of language towards the players via a tweet. "It's a shame and disgrace when you have the president of the US calling citizens of the country sons of a b*tches," Sankey tweeted.
In addition, NFL commissioner Roger Goodell released a statement to The Guardian on Sep. 23, 2017 describing Trump's comments as "divisive."
He said,
The NFL and our players are at our best when we help create a sense of unity in our country and our culture. Divisive comments like these demonstrate an unfortunate lack of respect for the NFL, our great game and all of our players, and a failure to understand the overwhelming force for good our clubs and players represent in our communities.
And, in typical Trump fashion, he took to Twitter on Sep. 23, 2017 to respond to the backlash and defend his comments. "If a player wants the privilege of making millions of dollars in the NFL, or other leagues, he or she should not be allowed to disrespect," Trump tweeted.
While Trump may never put those twitter fingers to rest, I think we can all agree that the internet just wouldn't be the same without the commentary.
However....
Agreed Martha, agreed.