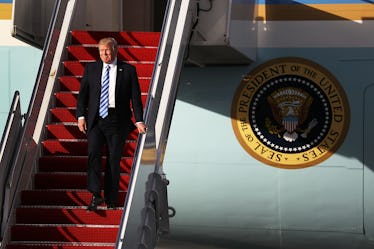 The Cost Of Trump's Travel Could Fund 128 Cargo Ship Trips To Puerto Rico, Report Says
Joe Raedle/Getty Images News/Getty Images
After President Donald Trump's recent visit to Puerto Rico, people were outraged from his less than consoling comments about how the hurricane was impeding his budget. He also mentioned on his visit that there was a "very large ocean" in between Puerto Rico and the U.S. mainland. A study released this week looks at how President Trump's travel costs could fund 128 cargo ship trips to Puerto Rico.
The study was released by FormSwift, a SaaS platform that provides online business and legal documents for individuals and businesses. The study details all of the Trump family's taxpayer travel endeavors from the past year, determining that Donald Trump's trips to his Mar-a-Lago resort were the largest travel expenses of all the members in his family.
Trump took four trips to Mar-a-Lago between Feb. 3 and March 19, and his airfare costs were between $580,000 and $812,000 per trip, according to the analysis. Aside from that, Trump's non Mar-a-Lago travel expenses cost around $29 million, adding up to a grand total of around $32 million for taxpayers.
What could the U.S. do with that $32 million dollars? Considering the distance between Florida and Puerto Rico, or the "very large ocean" that separates them, and approximating fuel costs, FormSwift determined that sending one U.S. cargo ship full of aid from Florida to Puerto one-way would cost about $249,899. It turns out, Trump's travel costs alone could have sent an cargo ship full of aid to Puerto Rico 128 times.
Meanwhile, Trump applauded his administration during his visit for the "great work" they had done for Puerto Rico thus far. President Trump also praised Puerto Rico for having a "low death toll" of 16 in the wake of the hurricane, and he compared that to the "real catastrophe" of Hurricane Katrina, with the thousands dead.
"Trump's statement on the 'very large ocean' between the US and Puerto Rico made us interested in seeing just how difficult it is to get cargo ships of supplies to these victims. We made our calculations with the largest running U.S. cargo ship in mind, to determine the very least the government could have done with the Trump family's travel funds," Vik Tantry, FormSwift CEO, said in a press release about their analysis.
Other members of the Trump family spent a significantly smaller amount of taxpayer dollars for travel expenses. Coming in second was obviously First Lady Melania Trump, who cost about $218,961 on trips mostly coming from New York or Mar-a-Lago, which is a substantial difference from the $32 million her husband spent. Behind Melania Trump was the president's son Eric Trump and then Ivanka Trump. The combined costs of Melania Trump, Eric Trump, Ivanka Trump, Tiffany Trump, and Donald Trump Jr. only cost about $434, 109. Basically, President Trump himself could have supplied 128 cargo ships, and the rest of the family combined could have supplied 1.8.
"With the many hurricane victims in Puerto Rico needing aid, the current administration is under pressure to help however possible. By analyzing government spending reports in terms of the Trump family's travel expenditures, we were able to look at how government resources could have been better utilized to help these people," Tantry also said.
President Trump has received widespread criticism for his badly-timed golf trips. For example, four days after Hurricane Maria hit, Trump went to New Jersey to spend the long weekend at his private golf club. With the evidence of this new study, it is not only the golf trips that show his lack of urgency to care for the American people, it's his travel expenses, in which taxpayers are funding, that reflect an utter lack of care during crisis.