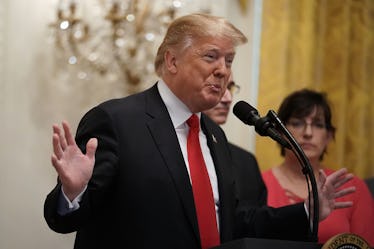 Trump's Going To Meet Putin With No Aides & This Sounds Like A Bad Idea
Alex Wong/Getty Images News/Getty Images
President Donald Trump is only days away from meeting with Russian President Vladimir Putin for their very first summit. As the date approaches, new details of the highly anticipated visit are emerging, and they show that the meeting is already slated to be an intriguing one. But the biggest shocker yet might be the fact that Trump's going to meet Putin with no aides, according to CNN.
That's right — Trump won't be accompanied by any staff or advisers during part of his meeting with Putin on July 16 in Helsinki, Finland. His decision to meet with the Russian leader alone has concerned many U.S. officials, as this means that part of the meeting will be without an official record, which could make it difficult to determine whether or not they reached any agreements. Also, as CNN notes:
Putin is known as a shrewd negotiator who some officials worry could exploit such a session and extract concessions from Trump.
Elite Daily reached out to the White House for comment on the plans for the meeting and whether there would be an official record of all meetings between the two leaders, but did not immediately hear back.
However, aides are expected to join the two later in the meeting, which is expected to discuss Russia's interference with the U.S. election, relations with Syria, and nuclear arms control, according to The Washington Examiner.
National security adviser John Bolton explained the purpose of the meeting on CBS's Face the Nation on July 1, saying:
The goal of this meeting really is for the two leaders to have a chance to sit down, not in the context of some larger multilateral meeting, but just the two of them, to go over what is on their mind about a whole range of issues.
That sounds good and all, but I wanna know what's truly up with this. I mean, why all the secrecy? Is Trump actually gonna press Putin about election meddling for once? Are they that comfortable with each other to keep their meeting so private and without any official U.S. record?? I have so many questions and not enough answers.
Trump had attempted to dispel some of the concerns surrounding his and Putin's meeting while speaking with reporters board Air Force One on June 29, though. He said, per CNN:
I'll talk to him about everything. We're going to talk about Ukraine, we're going to be talking about Syria, we'll be talking about elections. And we don't want anybody tampering with elections. We'll be talking about world events. We'll be talking about peace. Maybe we talk about saving billions of dollars on weapons, and maybe we don't.
Does that put you a little more at ease? Yeah, me neither.
Granted, it's not totally uncommon for Trump to be without aides. He also attended part of his Singapore summit with North Korean dictator Kim Jong-un solo on June 12, accompanied only by interpreters. But some of Trump's meetings with Putin have already raised eyebrows, like their first encounter at the Group of 20 summit last July — which was especially alarming because Russia is accused of conspiring to help her husband win the presidential election. According to CNN, the meeting went so long that Melania Trump was sent in in efforts to bring it to an end. Additionally, Trump's often vowed to press Putin on the fact Russia meddled in the 2016 U.S. presidential election, but has yet to fulfill his promises.
Trump and Putin had also met again at the G20 a week later for a second meeting, where they reportedly chatted for an hour without any aides present. CNN notes that the White House downplayed the meeting, dismissing it as a "brief" experience, but at the time experts were reportedly worried that there wasn't an official record of their sit-down.
Surely, there are gonna be some of those same concerns floating around since Trump'll meet with Putin solo for another time. But maybe if we're lucky — really, really lucky — we might actually get thorough details of what actually went down this time. Never say never.