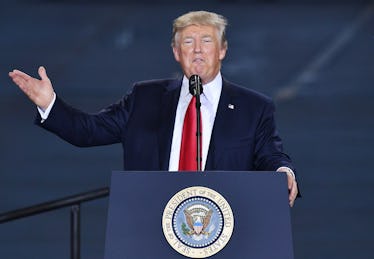 Trump Tweets About Puerto Rico Again, Says FEMA Can't Stay There "Forever"
MANDEL NGAN/AFP/Getty Images
In a series of tweets that mentioned Puerto Rico's debt and "disaster" infrastructure, President Donald Trump spoke about the island state once again. This time, his statements implied a lack of patience for maintaining federal relief efforts on the U.S. territory, where a vast majority of the over 3 million people living on the island still have no electricity. With his trademark use of ellipses, Trump's tweets about Puerto Rico read,
'Puerto Rico survived the Hurricanes, now a financial crisis looms largely of their own making.' says Sharyl Attkisson. A total lack of..... ...accountability say the Governor. Electric and all infrastructure was disaster before hurricanes. Congress to decide how much to spend.... ...We cannot keep FEMA, the Military & the First Responders, who have been amazing (under the most difficult circumstances) in P.R. forever!
What Trump's Tweets Mean
Trump's remarks on Puerto Rico come on a day during which Congress is set to vote on a bill that would send to the island billions of dollars in funding for relief efforts.
Meanwhile, the Sharyl Attkisson to whom he refers is a journalist for Sinclair Broadcasting, a conservative broadcast media group that has been increasing its influence in local news across America.
As for Trump's mention of a "lack of accountability," the president's tweet implies those are words mentioned by Puerto Rico's governor, Ricardo Rosselló. Gov. Rosselló, who only became governor earlier in 2017, did indeed use those words in describing the state of the Puerto Rican economy and the amount of people moving from the island to the mainland U.S.
Those remarks came, however, over five months ago, in May. Rosselló said at the time,
That's been happening so far because we haven't made the proper changes. We haven't made the changes to government. Expenditures have gone rampant in Puerto Rico, lack of accountability, total lack of accountability.
And what we're proposing right now is a complete change in that direction now. I know there are going to be some challenges during these cuts and the right-sizing of government.
On Thursday morning, Oct. 12, after Trump tweeted about Puerto Rico, Gov. Rosselló responded with a tweet of his own, in an apparent effort to express that the islands requests for help are no different than any other state in a similar situation, saying,
The U.S. citizens in Puerto Rico are requesting the support that any of our fellow citizens would receive across our Nation.
Trump's suggestion that there is a time limit to the federal government's dedication to helping rebuild Puerto Rico contradicts the message from Vice President Mike Pence, who during his own visit to the island said,
We are with you today, we will be with you tomorrow, we will be with you every day until Puerto Rico rebuilds and recovers bigger and better than ever before.
How Congress Will Fund Puerto Rico's Aid
The latest batch of funding that the federal government is set to send to Puerto Rico is following a letter Gov. Rosselló sent to Congress, requesting $4 billion in funds.
We are grateful for the federal emergency assistance that has been provided so far. However, absent extraordinary measures to address the halt in economic activity in Puerto Rico, the humanitarian crisis will deepen, and the unmet basic needs of the American citizens of Puerto Rico will become even greater.
The bulk of the emergency assistance that Puerto Rico will receive — as part of the aid package that Congress will imminently vote on — will come via a loan of approximately $5 billion dollars.
And while the funds will be put toward relief efforts, the loan will ultimately add to the island's $70 billion in debt, which itself already had Puerto Rico in a crisis, as President Trump's tweets mentioned.