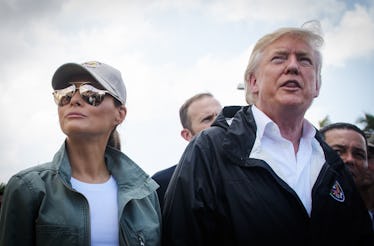 Puerto Rico Relief Funding Is Coming From Congress, But There's A Catch
MANDEL NGAN/AFP/Getty Images
Pending a final yes vote in Congress, Puerto Rico will get extra funding to dedicate towards hurricane relief efforts on the island, but there's a catch. The funding will come in the form of a loan, instead of a grant, which means Puerto Rico's already significant debt burden will ultimately increase. The details of this latest batch of funding comes from Politico, which reported on Tuesday night, Oct. 10, that President Donald Trump's administration has made a late change to a larger bill meant to include funding for a multitude of purposes.
The bill had previously included around $29 billion in aid for relief efforts in response to hurricanes Irma, Maria, and Harvey, CNN reports. Now, however, after the U.S. Office of Management and Budget sent a formal request on Tuesday to Congress, requesting $4.9 billion in emergency aid to "address the immediate liquidity issue that Puerto Rico is having."
The move to include extra funding within the bill comes after Puerto Rico Gov. Ricardo Rosselló wrote a letter to Congress asking for additional aid, while warning that without extra funding the island would face serious consequences.
Rosselló wrote,
We are grateful for the federal emergency assistance that has been provided so far. However, absent extraordinary measures to address the halt in economic activity in Puerto Rico, the humanitarian crisis will deepen, and the unmet basic needs of the American citizens of Puerto Rico will become even greater.
The governor also added in the letter,
Financial damages of this magnitude will subject Puerto Rico's central government, its instrumentalities, and municipal governments to unsustainable cash shortfalls. As a result, in addition to the immediate humanitarian crisis, Puerto Rico is on the brink of a massive liquidity crisis that will intensify in the immediate future.
Rosselló asked for $4 billion in additional aid for Puerto Rico. Pending the vote on the funding bill, the island will receive more than that, via an approximately $5 billion loan. However, accepting the funding will mean taking on more liability to add to the island's $70 billion-plus of debt.
The loan will be used to help Puerto Rico essentially run its government and pay its employees, all at a time when there are fears that the island's government would have to shut down by the end of the month due to its unhealthy financial state.
The bill that's on its way to a vote in Congress will also include a $1.27 billion grant — i.e., money Puerto Rico will not have to pay back — in what's called "disaster nutrition assistance," according to The Intercept.
While the funding the federal government sends to Puerto Rico won't do much to help decrease debt, the funding bill does include a massive grant, just for another purpose.
Again pending a yes vote, $16 billion dollars will be granted to the National Flood Insurance Fund (NFIP) to wipe out its own debt, just as a number of American families are making insurance claims to the NFIP in order to receive payments for damage to their homes. As The Intercept reports, the NFIP is responsible for compensating those who buy into its flood insurance when damage is sustained after an event like a hurricane. However, the premiums and other payments that the NFIP had been collecting aren't enough to cover the costs of the insurance claims now coming in.
As a result, Congress will step in to cancel the program's debt, which is owed to the government. Puerto Rico's debt, meanwhile, which is owed to private investors, will continue to rise after it accepts another loan to help recover from Hurricane Maria.
Congress members are expected to vote on the bill later this week.