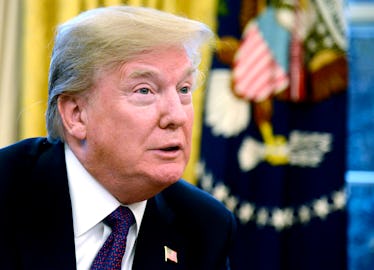 Trump's Most-Used Word At His State Of The Union Will Make You Roll Your Eyes
Pool/Getty Images News/Getty Images
There are a lot of things to look out for during a president's State of the Union address, and this year is certainly no exception. President Donald Trump gave his first official State of the Union address to a joint session of Congress on Jan. 30, and the speech (coupled with his delivery) was under intense scrutiny given the current divided political climate. There were a multitude of topics that Trump covered on Tuesday night, from the current prosperity of the American economy to the impending nuclear threat from North Korea. But a way that we can quantify his overall tone of his address is by measuring one thing — the word Trump used most during the State of the Union. And trust me, you will not be surprised at what it is. Trump said "America" at the State of the Union 30 times, according to The Times-Picayune, plus "Americans" another 23 times.
The theme of Trump's address tonight was dubbed "building a safe, strong, and proud America," so it comes as no surprise to anyone that he would use the words "America" and "Americans" more than any other during his address. Trump seemingly used those two phrases as a means of inclusivity — a theme that was expected to run though his speech. Trump stated during a portion of his introductory remarks, "Tonight, I want to talk about what kind of future we are going to have, and what kind of nation we are going to be. All of us, together, as one team, one people, and one American family can do anything."
Trump also offered to help as president for an bipartisan effort in Congress to work with both sides of the aisle, and get to work on the important issues at hand. Trump called on both parties to work together in order to dutifully work for the benefit of the citizens of this country. Trump said,
So tonight I am extending an open hand to work with members of both parties, Democrats and Republicans, to protect our citizens, of every background, color, and creed.
Trump indulged in a ton of self-praise tonight, specifically when discussing the successes that he's seen since taking office, specifically when it comes to the current economic and employment prosperity the nation is experiencing. Trump stated,
Since the election, we have created 2.4 million new jobs, including including 200,000 new jobs in manufacturing alone. Tremendous. After years and years of wage stagnation, we are finally seeing rising wages.
Another area of success that Trump touched on tonight was the gains that he's seen in combatting ISIS while in the Oval Office. ISIS has lost most of its territory in Iraq and Syria, which is due in part to U.S. military support that we've seen in those regions directed under Trump. Trump stated,
Last year I pledged that we would work with our allies to extinguish ISIS from the face of the earth. One year later, I'm proud to report that the coalition to defeat ISIS has liberated almost 100 percent of the territory once held by these killers in Iraq and Syria. But there is much more work to be done. We will continue our fight until ISIS is defeated.
So while lauding his administrations successes, of course Trump used the word "American" multiple times to group his successes as a win for all Americans. I mean, did you expect anything else from him? The word "America" was in his "Make America Great Again" campaign slogan, which he continues to use, despite already winning the election. So does this speech indicate that America is, in fact, "Great Again"? From the looks of this State of the Union address, Trump sure seems to think so.