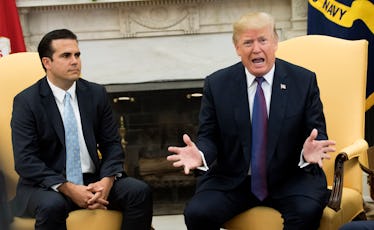 Donald Trump's Puerto Rico Rating Is About As Self-Congratulatory As You Can Get
Pool/Getty Images News/Getty Images
Donald Trump is giving Donald Trump a perfect rating for his response to Hurricane Maria. During a meeting with Puerto Rico's governor on Oct. 19, POTUS was asked how'd he rate the recovery efforts by the federal government. In an answer that will surprise no one, Trump says the Puerto Rico response is a 10 out of 10.
"I give ourselves a 10," Trump said at the Oval Office meeting with Gov. Ricardo Rosselló, according to The Guardian. "It hit right through the middle of Puerto Rico. There's never been anything like that," he added. Rosselló reportedly declined to rate the response.
Over three weeks have passed since Hurricane Maria devastated Puerto Rico. According to The Guardian, 80 percent of those on the island are still without electricity, while hundreds of thousands lack drinking water. The official death count for the storm is at 48, but there are projections that the real count is as high as 450, according to USA Today.
In the wake of the storm that hit on Sept. 20, San Juan Mayor Carmen Yulín Cruz criticized the federal government's slow response to the crisis. In a press conference, Cruz pleaded for help and said the slow recovery was "killing us with the inefficiency." To that, Trump tweeted that she "had such poor leadership."
"It may be easy to try to disregard us ... It may be easy because we're a U.S. territory and a colony of the United States. But we are people dammit and I don't care what the political status is," Cruz told HuffPost during a sit-down interview on Oct. 15.
Though Trump may give the federal government's response to Hurricane Maria an A+, the Federal Emergency Management Agency (FEMA) might have given Cruz good reason not to do so. Food and water are in short supply, and the agency has been criticized for failing to act earlier. P.K. "Ken" Keen, a retired three-star general who led the U.S. response to the earthquake in Haiti in 2010, told The Miami Herald that it was an "inadequate response."
The agency's head Brock Long went as far as to say in an interview with ABC that FEMA "filtered out" the mayor's complaints on Twitter because it doesn't have time for "political noise."
While Cruz's invitation to the Oval Office meeting might have been, uh, lost in the mail, Trump's rosier relationship with Rosselló goes way back. At least way back to his visit to Puerto Rico on Oct. 3, when Trump praised the governor while throwing shade at Cruz. During a public event, the president said that Rosselló "was not playing politics," an apparent jab at the mayor.
During that same visit, Trump went to a church where he was videoed throwing rolls of paper towels into a crowd of hurricane survivors. But, even before tossing the paper towels as though he were throwing t-shirts into a crowd at a concert, Trump gave himself decent ratings for the response. According to The New York Times, at a speech in September about the recovery, the president said it was "incredible," tremendous," and "amazing." Because of course he did.
In the meantime, Congress has been working on emergency relief for the island.
The Senate is expected to address a $36.5 billion package greenlit by the House of Representatives for recovery efforts in Puerto Rico and other places afflicted by recent disasters. In September, Congress approved a package for $15.25 billion to address the damage wrought by Hurricane Harvey in Texas, according to NPR. Officials have not yet specified exactly how much Puerto Rican rebuilding will cost, though they expect it will take years, according to CBS News.
While POTUS was quick to give himself a high rating at the Oval Office meeting, he was less willing to field a question about Puerto Rican statehood. The island has been under American oversight since 1898 and officially became a commonwealth in 1952, according to CNN. "You'll get me into trouble with that question," Trump said about statehood.
Though Puerto Ricans are American citizens, the island is not represented by a voting member of Congress, but rather a Resident Commissioner, a non-voting member of the House of Representatives. In a June referendum, 97 percent voted in favor of moving towards statehood, The Atlantic reported.
While it's not exactly out of character for Trump to call a bungled response perfect, it's hard to imagine why he'd give it an exceptional rating. Then again, maybe he just really loves throwing paper towels.