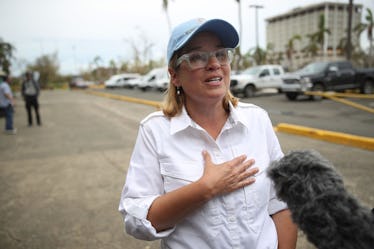 San Juan's Mayor Is Still Not Having It After Trump's Jokes About Puerto Rico
Joe Raedle/Getty Images News/Getty Images
It's a game of natural disaster he-said-she-said — and it just got another round. Just when it seemed as though President Donald Trump and San Juan Mayor Carmen Yulín Cruz were done exchanging barbs, they're back at it. Following his visit to the island, San Juan's mayor called out Trump for joking about the disaster at a briefing with island officials on October 3rd.
In an interview with CNN, Mayor Cruz said she hopes Trump will stop "spouting out comments" that hurt the Puerto Rican people. During his first visit to the island since it was hit by Hurricane Maria on Sept. 20, the President quipped about the response to the crisis. "I hate to tell you, Puerto Rico, but you've thrown our budget a little out of whack. That's fine. We've saved a lot of lives," he said.
The mayor wasn't having any of it. "It doesn't make you feel good. It's about respect for the Puerto Rican people, and it's about saving lives," she said in the CNN video.
In the wake of last month's hurricane, nearly all of Puerto Rico is without power and many still don't have drinking water. At least 34 people have died as a result of the storm, according to an updated figure from the Associated Press.
The mayor's comments are the latest in a back-and-forth over the administration's response to the hurricane.
In the days after the storm, Trump pointed to Puerto Rico's "broken infrastructure & massive debt" as to imply they were reasons why the island was "in deep trouble."
At a press conference on Sept. 29th, Cruz pleaded with the federal government for help. "If anybody out there is listening, we are dying. And you are killing us with the inefficiency," Cruz said.
With that, Trump came for her while he was reportedly at his golf resort in Bedminster, New Jersey on Sept. 30. In addition to accusing the mayor of politicking with Democrats, in a series of tweets Trump said Cruz had "such poor leadership" and said Puerto Rico could not get its workers to "help." He added that federal workers on the island were doing a "fantastic job."
Things seemed to settle down by Tuesday, when Trump said that Cruz had "come back a long way" during the four-hour visit.
But, that didn't stop him from throwing some shade her way. At the briefing, the president said that Puerto Rico Gov. Ricardo Rosselló "was not playing politics," an apparent nod to his tweet about Cruz and the Democrats.
After Tuesday's visit, Cruz was hardly alone in her criticism for POTUS.
At the briefing, Trump had another foot-in-mouth moment when he compared the storm's death toll with Hurricane Katrina, which hit Louisiana in 2005 under President George W. Bush. He called that storm a "real catastrophe:"
"Sixteen people versus in the thousands. You can be very proud of all of your people and all of our people working together. Sixteen versus literally thousands of people. You can be very proud. Everyone around this table, and everyone watching, can be very proud of what's taking place in Puerto Rico."
And at a stop later in the day at Calvary Chapel, Trump was captured on video throwing rolls of paper towels into a crowd of hurricane survivors.
Hurricane Maria follows Hurricane Harvey in Texas and Hurricane Irma in Florida. Despite the island's long history of tropical storms, Maria is thought to be among the worst. The storm decimated much of the island's infrastructure, washed away roads, shut down hospitals and cut off the lines of communication.
In the days since the storm, celebrities and other public figures have also reacted to the federal government's response.
Broadway star Lin-Manuel Miranda went off on the president, while singer Ricky Martin launched a crowdfunding page that has raised nearly $2 million.
As for Cruz, it at least ended on a higher note than it began. "I saw a real connection between the reality and the White House staff," she told CNN after the visit.
But others that were hopeful about Trump's visit to the island, nearly two weeks after the hurricane first struck, may be left feeling like it's too little, too late.