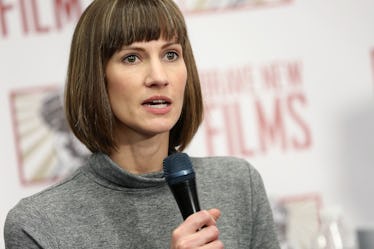 A Woman Who Alleges Trump Forcibly Kissed Her Just Won Her First Election
Monica Schipper/Getty Images News/Getty Images
Among the many elections around the country on Tuesday night, May 8, there was a notable result in the midwest. Donald Trump accuser Rachel Crooks won the Ohio Democratic primary for a seat in the Ohio state legislature. Crooks' primary win means that she advances to the general election in November, when she will compete to become the state representative of Ohio's 88th district.
"We're still waiting for the final count, but it was uncontested, so we're happy," Crooks campaign manager Chris Liebold said Tuesday night, per The Washington Post. "We look forward to the race ahead."
Crooks' name first made headlines in October 2016, when she became one of over a dozen women who went public with stories alleging sexual harassment from Donald Trump. During the campaign, Trump denied all accusations made against him, and the White House has said that his accusers are lying.
Crooks' allegation stems from an encounter at Trump Tower in Manhattan in 2005, she told The New York Times in 2016. While she was working as a receptionist for a company that worked at the tower, she introduced her 22-year-old self to Trump, who, she alleges, kissed both her cheeks and then kissed her in the mouth.
In February she recalled her story for The Washington Post. "He started kissing me on one cheek, then the other cheek. He was talking to me in between kisses, asking where I was from, or if I wanted to be a model," Crooks told The Post. "He wouldn't let go of my hand, and then he went right in and started kissing me on the lips."
After The Washington Post published its story about Crooks, Trump denied the allegation on Twitter.
"A woman I don't know and, to the best of my knowledge, never met, is on the FRONT PAGE of the Fake News Washington Post saying I kissed her (for two minutes yet) in the lobby of Trump Tower 12 years ago. Never happened! Who would do this in a public space with live security cameras ..." the president tweeted in February.
Crooks' campaign Twitter account would reply. "Please, by all means, share the footage from the hallway outside the 24th floor residential elevator bank on the morning of January 11, 2006," the account tweeted. "Let's clear this up for everyone. It's liars like you in politics that have prompted me to run for office myself."
By the time the Washington Post piece came around, Crooks, who works as a recruiter at Heidelberg University in Ohio, had launched her bid for the state's legislative seat for its 88th district. Her story has helped lead to a record number of donations for a first-time candidate, her campaign manager told The Washington Post.
"It's the year of the woman. We have the reaction to Donald Trump, and it's a change election," Liebold told The Columbus Dispatch ahead of Tuesday's primary. "Rachel hits all those boxes. She's not a typical politician."
In an interview with a local news station, the 35-year-old candidate said that education would be a big focus on her agenda. "That would be a big priority for me to revamp our public education funding system and return dollars to the schools that need them." she told Toledo's NBC News 24.
Crooks' primary win was among many notable results across the country on Tuesday night, which saw mayoral races and primaries for state legislative seats, gubernatorial races, and Senate seats.
None of the results, however, match the story unfolding in Ohio's 88th district, where a woman who has accused the president of the United States of sexual harassment moved a step closer towards serving in office.