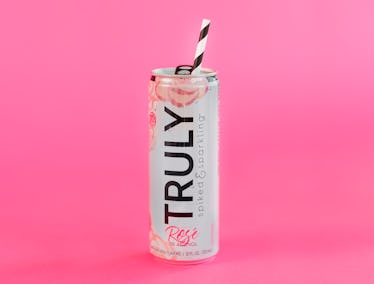 This New Canned Rosé Is Perfect For All Of Your Summer Soirées
Whether you sip it at brunch with your besties or by the poolside on your summer days off, rosé is the unofficial beverage of the season. Of course, you probably have a few bottles of the pink stuff ready to go at a moment's notice, but what about those times when you won't be able to swig the entire bottle? Enter canned wine. Don't overlook canned rosé because of its aluminum casing, because it is totally having a moment right now. The newest player in the game is the Truly Rosé canned spiked sparkling water, and it comes complete with the bubbles that make sparkling rosé so much fun to drink (if you're 21 years or older).
OK, so this isn't technically a wine, but it's pink and bubbly just like all of your favorite rosé wines. Truly Spiked & Sparkling announced the arrival of its newest canned beverage on Monday, July 30, and it's a handheld dream come true for any rosé fan. Per the release, the Truly Rosé is a pink-hued "spiked sparkling water," and its flavor is "inspired by rosé wine." With a 5 percent ABV, you won't miss the fact that this lightly sweet and fruity sip doesn't come from the vineyard.
Furthermore, it even boasts the flavor of "California Chardonnay grapes," so you'll feel right at home with the wine-like flavor of Truly Rosé. Plus, all of this effervescent rosé-like goodness is delivered in a slim 12-ounce can. Currently, rosé aficionados living in Maine, New Hampshire, Vermont, and New York can grab a 12-pack of the cans for between $14.99 and $16.99. You can locate a retailer selling Truly Rosé near you with the handy locater tool on the Truly Spiked & Sparkling website.
Again, don't let the name fool you: This is not rosé wine. With that, though, don't let that distinction keep you from trying the spiked sip, either. Oh, and if you aren't able to snag a case at a store near you, you can look forward to more locations nationwide rolling out the pink drink later this year, per the release.
In the meantime, you can try Truly Spiked & Sparkling's other offerings like Wild Berry, Blueberry & Acai, Raspberry & Lime, and Pomegranate. All the varieties are also spiked sparkling water, and there are plenty of fruity and citrusy flavors from which to choose.
If you want to diversify your rosé consumption this summer, then you can add some actual rosé wines to the mix. The Drop's resealable rosé wine cans are a convenient way to "rosé all day" without wasting any of the good stuff. The new can from The Drop is perfect for when you only want a sip of rosé, because you can simple pull back the tab, drink your fair share, and then lock it back up to save the rest. Honestly, it's the best way to make sure you don't waste a drop of the good stuff this season.
While classic rosé wine holds a special place in my summer-loving heart, there's plenty of room for different rosé drinks, so I'd try adding Truly Rosé to the mix this summer for a different kind of sip. You might just wind up making it a part of your regular happy-hour rotation. Cheers!