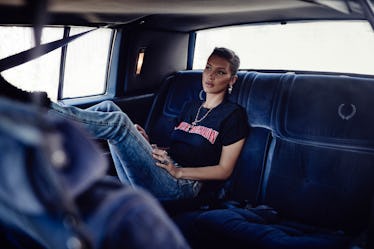 True Religion Jeans Might Be Making A Big Comeback Thanks To Bella Hadid, So Someone Call Fergie
I never thought I'd see the day when Juicy Couture tracksuits would become cool again, nor did I expect scarf tops or jelly shoes to ever resurge, either. But they have, and in the latest installment of sartorial "WTFs," True Religion jeans are attempting to come back and they're doing so with a celeb-fueled bang.
Yesterday, none other than Bella Hadid posted a photo to her Instagram wearing nothing but a pair of dark wash jeans and a hip chain belt. "My New True Religion campaign by Boo George! 🖤," the caption reads. "@TrueReligion is back!" Yes, Hadid, who was probably not even old enough to wear True Religion jeans when they were actually cool in the mid-aughts, is now the face of their campaign and is announcing for all to hear (and see) that that they are once again the apex cool. What a world we live in!
I remember wanting a pair of True Religion jeans so badly in high school, especially after Fergie anointed them the only denim that mattered by mentioning them in Black Eyed Peas song, "My Humps." "Whether I ain't askin' // They say they love mah ass in // Seven jeans // True religion // I say no // But they keep givin.'" Remember that? My mom would always crush my dreams by telling me they were too expensive (for a growing 13-year-old they absolutely were) and I eventually gave up on owning a pair of the famed blues. Has my time for redemption come?!
The most surprising about this whole thing isn't the fact that Hadid is simply modeling for the brand, it's the fact that she designed an entire capsule collection with them. How True Religion snagged Hadid for this gig I don't know, but man, are they lucky they did! "It was a great experience shooting an iconic denim campaign in Los Angeles," Hadid is quoted on saying on the brand's website. "I grew up with True Religion and was excited to play a part of the brand's next chapter." Okay, maybe Hadid was wearing them at age nine? Regardless, the collection, which ranges between $40-$300, is pretty straightforward and sticks to the brand's old school aesthetic.
There are four jean options, with the most iconic being the dark wash staple bootcut jeans complete with True Religion's iconic horseshoe label stitched on to both back pockets:
Similarly, the collection also includes the classic flare jean, which comes with slight distressing on one knee and features a light and faded wash:
The first skinny jeans offering is made for curvier figures and supposedly helps to contour. Currently, it's available in a dark wash:
And finally, there's a light wash skinny jean that features those water-like ripple fades along the pockets we all remember so well from the 2000s:
For shirts, there's one women's option and it's honestly pretty great. It's a denim button-up featuring Western-inspired pockets and faint paint splatter detail:
For guys (and girls, let's be real), there are two tee options. The first features the horse shoe logo on the front and a more detailed graphic spelling out TRUE RELIGION ON THE BACK. It comes in red, white, and black:
The second, which I could totally see Hadid rocking in her day-to-day life, is black and reads TRUE RELIGION on the front in red lettering:
Overall, the collection stays pretty in line with the brand's most famous offerings. Do you think it'll make a true comeback?