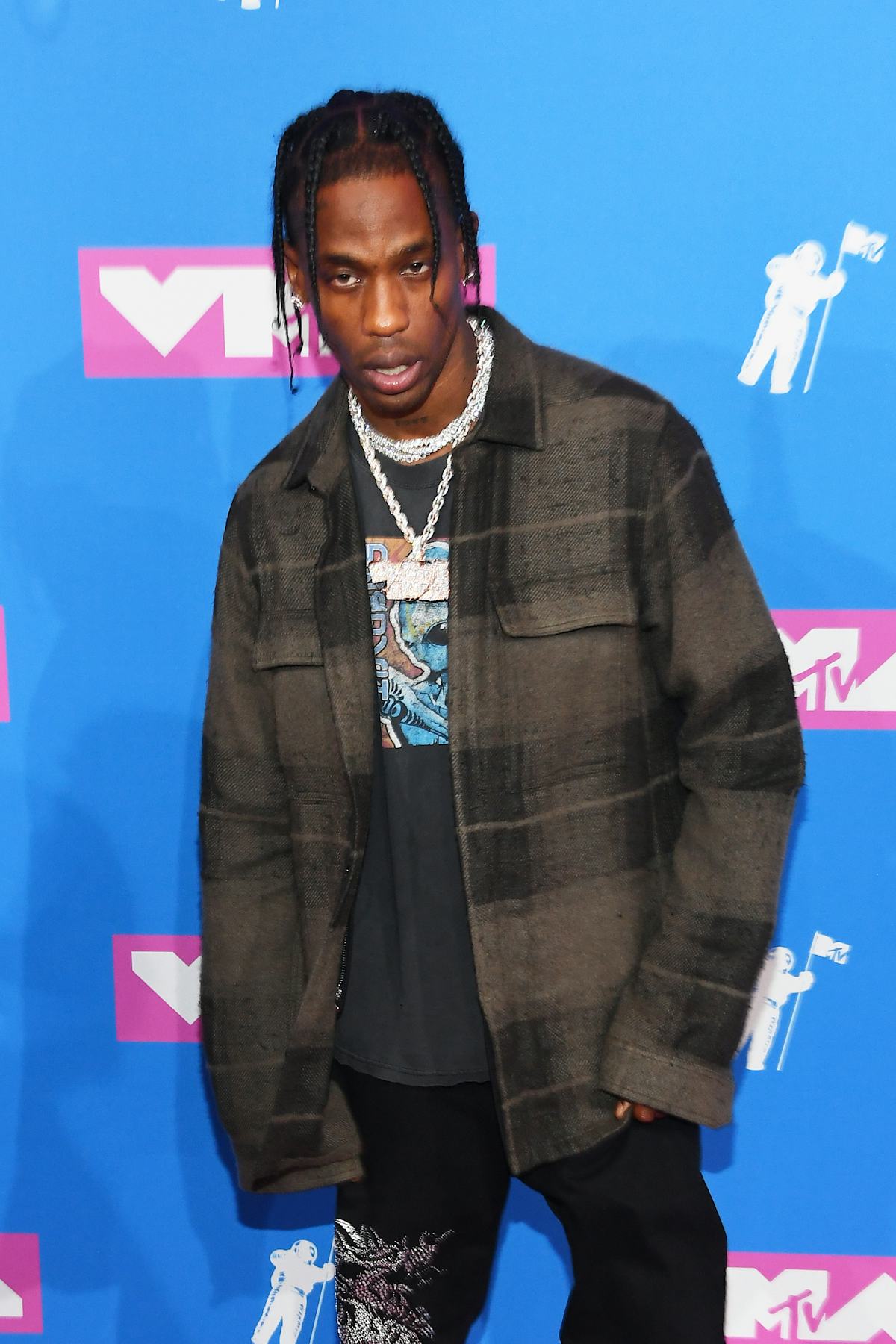 Fans Think Travis Scott Shaded Nicki Minaj During His VMA Performance With This Comment
Nicholas Hunt/Getty Images Entertainment/Getty Images
Travis Scott knows how to put on a show. The 26-year-old rapper just unveiled his critically acclaimed third studio album Astroworld earlier this month, and he just took the Radio City stage to give fans a show they'll they'll never forget. But did he put down a fellow rapper in the process? Travis Scott shaded Nicki Minaj in his 2018 VMAs performance by representing his album as number one, according to fans.
The so-called "shade" isn't exactly out of nowhere. Minaj recently made headlines for tweeting about her album Queen's place on the charts — she's competing with Scott for the top spot.
"Travis sold over 50K of these. With no requirement of redeeming the album! With no dates for a tour, etc. I spoke to him. He knows he doesn't have the #1 album this week. I love my fans for the #1 album in AMERICA! I'll explain on #QueenRadio 4 albums in, #1 in 86 countries," she wrote on Aug. 19.
Then, she dragged Kylie Jenner and Scott's daughter Stormi into the mix...
So, was Travis shouting out Nicki at the VMAs? Survey says...
Travis Scott has proved to be a creative force to reckoned with in the music world since he burst on to the scene as a teenager. His first studio album, 2015's Rodeo, earned the attention of critics and hip-hop contemporaries alike, and featured appearances from big names like Kanye West, Schoolboy Q, and The Weeknd. He followed up with his second studio album, Birds in the Trap Sing McKnight, in 2016. Travis has pointed to 2018's Astroworld, possibly his most celebrated album to date, as maybe his best work yet. He teased to GQ in 2017:
It might be the best music that I made. I have two records on the album that are like, man, they are the best. They tore down Astroworld to build more apartment space. That's what it's going to sound like, like taking an amusement park away from kids. We want it back. We want the building back. That's why I'm doing it. It took the fun out of the city.
Astroworld refers to a now-shut down Houston amusement park Travis frequented as a child. The artwork for the album reflects the inspiration, and his tour is expected to play off the same theme park concept.
Travis discussed how Astroworld came to be in an interview with Beats 1 in July, explaining that the ideas surrounding the project have been in motion since his debut album:
Astroworld's been set in stone since Rodeo. My whole idea was if you locked in to Rodeo, you definitely locked into Astroworld. I'm just finishing the saga I started on my first album. This is supposed to be my second album. I had to go quick, because like I said, I had all these ideas, I just had to get off real quick, but now I'm finally back home with Astroworld.
In addition to Travis' booming career, the musician has had quite the exciting year when it comes to his personal life. Dates for his concerts have yet to be announced, but if the show is anything like what he put out at the VMAS, fans are sure to be lining up — even if there's no Kylie appearance on the books.