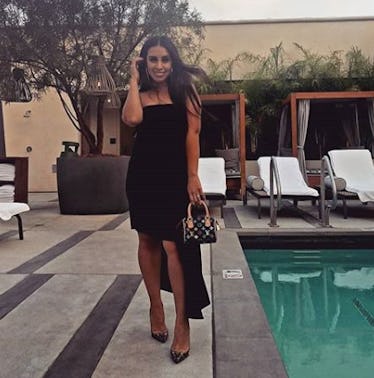 This Online Consigner Lets You Shop Designer Bags & Shoes You Can Actually Afford
Stephanie Montes
Growing up, I never owned designer items. As it was, my parents never indulged in name-brand clothing for themselves, so there was no way I could ever convince them to drop thousands of dollars on a monogrammed bag for me, a teenage wannabe socialite. I always had visions that I'd grow up, get some fancy retail job, and wear head-to-toe designer. I was 17 when I realized retail jobs don't pay enough and designer items are absurdly overpriced. To this day, I'm yet to buy myself anything super expensive, but with designer consignment websites reselling items at more affordable prices, I can finally build the wardrobe I've always wanted.
I was in my sophmore year of high school when I went shopping in Downtown LA with my mom, my aunts, and my cousins. We heard this was the place to go for cheap clothes, shoes, and accessories, so we made a day of it. As we wandered through blocks and blocks of this outdoor strip mall, I noticed designer knockoffs in every store window. They weren't very good, but we walked by a woman selling some really good designer look-alikes out of the trunk of her car (it was all very Samantha buying a fake Fendi in "the valley" on Sex and The City).
I still don't know how, but I convinced my mom to buy me a fake Louis Vuitton mini speedy bag in black with colorful monograms. Monday couldn't come quick enough — I couldn't wait to carry my tiny designer knockoff to school. Girls went gaga over my bag — it was mini, it was colorful, and it was Louis Vuitton. Except it wasn't. And all it took was a guy mentioning how his sister had a fake one at home to throw me into a full-on shame spiral. I became so self-conscious about it. I felt like everyone knew it was fake, so just a week later, I buried it deep in my closet, where I decided it should live permanently. I forgot about it until I moved out of my parents' house years later. However, when I dug it out, I decided not to throw it out. Sure, I'm a clothing hoarder, but I also felt bad about making my mom buy it for me, though I never used it — besides, I figured it would come in handy for a Halloween costume one day.
I never found the right costume for it, but when I was invited to an early-2000s themed dinner last week, it totally made my outfit.
The dinner was hosted by Tradesy, a peer-to-peer marketplace for women's fashion. Over dinner, we shared our favorite memories of the early 2000s and played the most epic game of white elephant I've ever seen. Tradesy provided the most covetable designer pieces from that era — I'm talking everything from Fendi baguettes, to Chanel wallets, and Louis Vuitton patent leather pieces — it was glorious. I don't think I even ate my dinner that night, I was way too excited. Aside from a game of cut-throat accessory stealing and a night of fashion girls screaming over designer bags, it was the perfect way to preview the selection of almost perfect-condition pieces sold by Tradesy. I left with a Louis Vuitton Pink Patent Leather Alma PM bag that looked brand new and even had the dust bag in it.
After the excitement of finally owning my first ever major designer bag wore off (kind of), I chatted with the founder Tracy DiNunzio about her philosphy on buying and selling high-fashion goods. She totally opened my eyes to the world of buying real designer items. It's expensive, but think og it as an investment. Items like classic Chanel pieces and my new Louis Vuitton bag (eeek!) are constantly increasing in value. When I'm done with my affordable Forever 21 pieces, they're garbage. I can't resell them and in most cases, they're too trendy or beat up to give away. This not only contributes to overflowing landfills, it's a waste of money. While designer items come at a much high cost, you can always sell them (sometimes for a profit), and use that money to buy new pieces. Plus, there's a guarantee they will be recycled, which ultimately helps the planet.
But just to be clear, I'm still in no position to just drop thousands of dollars on designer pieces, but that's where Tradesy comes in. It's basically a shared closet with access to endless designer items. Buy that item you've always wanted (at a fraction of the price), then when you get tired of it, sell it back and buy something else. Who said you can't afford Chanel?