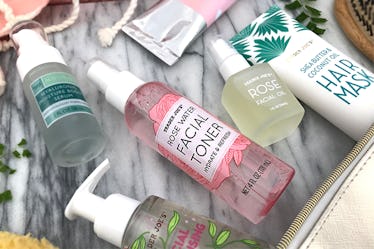 Trader Joe's Just Dropped A $6 Rose Face Oil & Consider It Your V-Day Gift To Yourself
Trader Joe's
When it comes to skincare, I think we can all agree that a lot of products cost WAY more than they should. (A two-ounce pot of La Mer face cream for $315? HAH!) Which is why Trader Joe's rose facial oil comes as a very sweet surprise. Yes, the mecca of grocery stores has rolled out a cult favorite beauty product, and as someone who swears by rose-based products for skin (Mario Badescu's Rosewater Facial Spray) has singlehandedly soothed my hangover skin for years), I can't wait to give it a try. The best part? It'll only run you $4.
Before I get into the facial oil, I should warn you that I am a massive fan of Trader Joe's. I've been out of the United States for six weeks (I'm doing a year of freelancing abroad) and the thing I miss the most about home is Trader Joe's. (Sorry, mom!) Even though every single TJ's in New York City always had a ridiculous line and was overcrowded, the grocery chain remains one of my favorite things on earth.
Their Milk Chocolate PB Pretzels are like crunchy hugs for your tastebuds (I recommend keeping them in your freezer) and their cheese selection never once failed me. Their Mediterranean Hummus, frozen Vegetarian Tamales, Organic Creamy Tomato Soup — it's all. so. good. I've never bought anything there that wasn't of quality, taste or otherwise, so I'm confident this facial oil will be no different.
Rose water has a bunch of beneficial effects when used topically on skin. It helps reduce redness and inflammation and balances the skin's pH, and has proven antibacterial and antioxidant properties. It also helps restore hydration, so if you've had a late night out and/or one that ended with too-big mouthfuls of salty food (hi, last night!), rose water can help get your skin back to a dewy and revived state. Taking all of this into account, it makes sense that Trader Joe's would choose the sweet-scented flower as the base ingredient for a collection of new beauty products. Yes, along with the Rose Facial Oil, the store has also recently released a Rose Water Facial Toner spray, also for a mere $4, meaning your freshest skin ever is on its way for cheap.
Both products were posted about on Instagram, each by a different user. Suzjojo posted about the facial oil on her account with a photo of the product captioned, "When life gives you 🍋 you make lemonade, when life gives you 🌹, you put them on your face♥️."
The product comes in a one-ounce bottle that looks to have a spray top and other than that, not much information is shown. However, another Instagram user commented that she tested out the product and said, "its amaaaaaaaaaaziiiiiinggggggg 💖💖💖💖." I'll take her word (and enthusiastic emoji use) for it.
A photo of the facial toner was posted by traderjoes_granola when it came out a week ago, with a more informative robust caption: "*NEW* product! Introducing Trader Joe's Rose Water Facial Toner 🤗 it's a hydrating and refreshing rose-scented 🌹 toning spray. Ingredients include Damask rose water, Damask rose oil and witch hazel. It also contains soapbark extract as a skin-conditioner. Mist on face after cleansing or throughout the day when needed. 🌹🌹🌹It's a steal at $3.99 😳 for a 4 fl oz bottle!!! 😀 😍."
Based off of this description, it's safe to assume that the face oil might share a few similar ingredients (certainly Damask rose) and will provide more penetrative and long lasting hydration.
Hopefully, the products will live up to the existing TJ gold standard. Being able to buy legitimately good beauty products and groceries at the same time? The American dream.