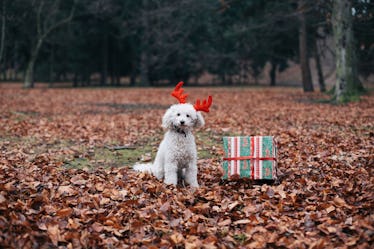 This Adorable Advent Calendar For Dogs Is At Trader Joe's, Because Santa Came Early
If you've ever owned a pet of any kind, you're most likely somewhat aware of how tempting it can be to spoil them every second of their adorable little lives. I'm almost embarrassed to say how frequently I walk into a pet store and rack up unthinkable amounts of money on fancy organic treats, teeny tiny squeaky toys, and what I believe will actually be the most comfortable dog bed on the market. Here just in time for the holidays, though, is the greatest gift known to mankind (er, pupkind): Trader Joe's' advent calendar for dogs. I can pretty much guarantee it's going to be the perfect gift for you and your fur baby.
Don't get me wrong — I'm sure the podcast you listen to during that dreaded morning commute is positively riveting. However, you may want to switch gears for a minute, and turn on foodie favorite, Inside Trader Joe's. Each episode is pretty short — less than 20 minutes — and they delve into the ingenious ideas behind each and every glorious TJ's creation. Honestly, it's unreal, and I highly recommend it.
Anyway, after listening to one (or five) episodes, definitely turn to season two, episode three. According to Delish, the episode dives deep into the chain's best holiday products, according to actual TJ's employees. TBH, it'll get you so psyched for the holidays. Between the Sipping Chocolate and Bacon-Wrapped Scallops, there are a ton of goodies coming out in 2018. One of the greatest products mentioned, however, is a freaking advent calendar for your dog.
Yep, you heard that loud and clear — according to Jon Basalone, president of Trader Joe's stores, its pup-friendly advent calendar comes equipped with one treat per day for that fluffy good boy (or girl) of yours. EEK, so exciting.
I just have a few questions about this glorious gift, since there weren't too many details provided in the podcast ep. Is the calendar itself decorated with other dogs? Treats? Maybe some squirrels, or cats? To be frank, I've never seen a dog advent calendar in my entire life, but I imagine it'd be pretty amazing. In reality, though, I need to get one for everyone on my Christmas list this year... regardless if they have a dog or not. It's just way too cute to pass up right now. There was no exact date given for when the calendars will hit store shelves, but it stands to reason that is should be there in time to count down to the holiday with your fur baby.
If you don't have a dog of your own, and you'd rather have a drink a day instead, spirit advent calendar company, Drinks by the Dram, offers a holiday advent calendar filled with tequila. Each and every day, you'll find a different type of fine, limited-edition tequila, such as: Don Julio, Casamigos, Patrón, and Fran Maracame Extra Añejo Tequila. I don't know about you, but that sounds pretty darn good to me.
No matter if you have a dog of your own or not, you have to admit that the Trader Joe's advent calendar for dogs is the best possible idea for anyone with a fur baby. You'd better believe I'm buying several (for my parents' dogs, as well as for all my future dogs) because it's the greatest gift on the planet. Happy (almost) holiday season to you and your pup!