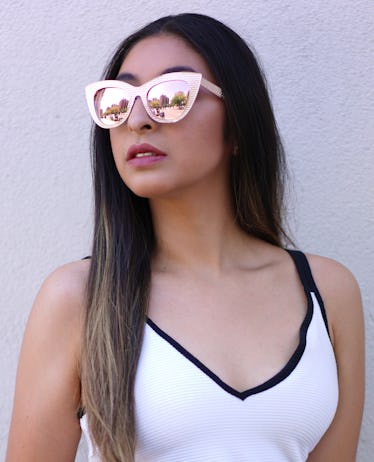 Topfoxx's "Selena" Sunglasses Collection Is Giving Back To The Latino Community In The Best Way
Topfoxx
Priscilla Manzo is a young woman who wears a number of hats. Not only she is the public relations manager at Topfoxx, a New York City-based sunglasses start-up, but she's also a lover of fashion, and a proud first-generation American. Being the daughter of her Mexican-born father — who is now a U.S. citizen — is a badge she proudly wears with honor, but it's also something that makes the current immigration crisis happening at the Southern border hit very close to home.
"I always [think], what if this happened to my dad?" she shares with Elite Daily. "My life would be completely different — I may not have been here."
That's why Manzo teamed up with Project Paz, a NYC non-profit that works to help Latino children in the U.S. and Mexico, to create the Selena Collection for Topfoxx. And at $69 a pop, 15 percent of all proceeds from each purchase goes directly toward helping children in immigration shelters — many of whom were separated from their parents at the border.
"I just put myself in their shoes — one moment to be with your mom then the next second you have to live on your own as like a five year old," she laments. "How can you do that to a child?"
But while the vast majority of Americans agree that the Trump administration's decision to implement the separation practice was cruel, according to a Quinnipiac University poll, the PR guru is hoping that her initiative and willingness to give back to her community can help to make a real difference. "My dad — his process, he really had to prove himself," she says. "He got lucky I would say, more than most people, and I want to spread that luck."
As far as the name of the collection goes, anyone who is familiar with Latin music may automatically associate "Selena" with legendary performer Selena Quintanilla-Pérez, who Manzo says has always been an inspiration to her. The singer, who passed away in 1995, came to prominence in the late '80s and early '90s, and is often credited with bringing Latin music to the mainstream. So for Manzo, naming the line after the icon, who she explains is still a strong role model for many Latina women to this day, was a no-brainer. "She paved the way," Manzo says.
For the design, the company's aim was to make women feel "bold and beautiful" — and the sunnies embody just that. Coming in rose gold, black, silver, and blue-silver, these glasses definitely make a fearless statement. "We chose the cat eye because we wanted something that was really strong, but at the same time feminine," Manzo explains. "Something that a strong, powerful woman would have wanted to wear."
So what's the response been to the line so far? Nothing short of amazing. Both celebrity makeup artist Hrush Achemyan, along with beauty influencer Kristen Leanne have been seen sporting the trendy sunnies, and with 5-star reviews online, there's no doubt that these glasses will continue to fly off the shelves. "The way that people really connected with it made me the proudest," Manzo exclaims. "It created a different community than we had before."
Even though summer may be winding down, there's never a bad time to get a new pair of sunglasses. And since a portion of the proceeds will be going to children who are in need, this is a purchase you can definitely feel good about.