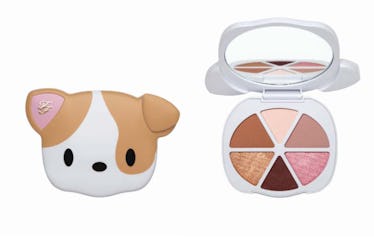 Too Faced Is Dropping A Puppy-Themed Palette & It's Actually Making Fetch Happen
Too Faced
If you're a dog lover like I am, you're about to drool over Too Faced's pretty puppy palette. Not only is it the most precious little eyeshadow palette you've ever seen, it's also part of a mission to do so much good for our furry friends everywhere. But before I get into the super cute compact, here's why this launch makes me so happy.
About three years ago, a puppy hid out under my porch in an effort to take cover from the worst rain we'd seen in LA in years. I wasn't sure where he came from or how he got to my house but I couldn't leave him outside, so of course I brought him in. The rain lasted a few days and by then, he had bonded with me, my boyfriend (now, husband) and our only child, Bella, a then-seven-year-old chihuahua. After the storm passed, I decided to get my new friend checked out. My mom heard about a nearby no-kill sanctuary called Best Friends Animal Society, so I took him there to see what my options were.
Everyone there was so nice and they were all sweet to my new friend. They checked for a microchip and did a short exam. I found out he wasn't registered and was only four weeks old. That's when I decided to adopt him. It happened to be a special weekend — Best Friends Animal Society was offering services for super cheap and even neutered him for free. After he was vaccinated, microchipped for $15, and registered, it was official, my family of three grew to a family of four. We named him Oliver, and the rest is history. (*See below: Oliver on the left and Bella on my lap.)
Since then, I've always recommended Best Friends Animal Society to friends. They provide a safe, no-kill place to surrender animals, they offer low-cost adoptions and services, and you can tell they truly care about the well being of their animals.
Here's where Too faced comes in. The founders of the makeup empire, Jerrod Blandino and Jeremy Johnson (see them below with their dog Clover), are avid animal rights advocates too — they've even stuck to their vow of making Too Faced a cruelty-free brand. And now, with the launch of Puppy Love, Too Faced is donating $150,000 to Best Friends Animal Society.
Now here's where things get even more adorable. The palette is shaped like Clover's face and even has a tan patch across his left eye. Inside you'll find six neutral matte and metallic shades, with names all inspired by dogs, like "Bow Wow," "Bad To The Bone," and "Puppy Nose." If you don't have your own real-life puppy to tote in your purse á la Paris Hilton, this one is much easier to keep in your purse, but still just as cute.
Too Faced Puppy Palette, $28, TooFaced.com
The adorable palette is only $28 — which means you'll still have enough in your wallet to adopt a real doggie after this. The collection (which includes a limited-edition shade of Melted Matte Lipstick called Melted Clover ll) will be available exclusively on Too Faced's website on September 12.