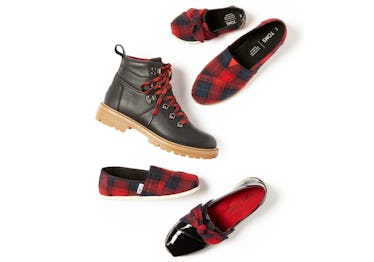 TOMS Is Offering 30 Percent Off Literally Everything For Black Friday This Year, So Get Hyped
If you like a good deal as much as the average star of TLC's Extreme Couponing, then your equivalent of the New York Marathon is fast approaching. The biggest discounted shopping day of the year is nearly here and we've already got the details of TOMS' Black Friday sale to share with you. Does that get your blood pumping and the corners of your mouth curling up? Good, it should. From November 21 through November 27, the brand is offering a whopping 30 percent off all items both in-store and online. If you're in the market for a new pair of sunnies of shoes, this is the sale you'll want to shop first.
The best part about it isn't even the savings, though. As you likely know, TOMS operates on their One for One business model, meaning for every pair of shoes they sell, they'll donate a pair to someone in need. In regard to eyewear, TOMS helps restore sight to people in need by providing prescription glasses, medical treatment and/or sight-saving surgery with profits earned from eyewear sales. In other words, by getting in on TOMS' amazing Black Friday Sale you'll also be helping individuals that could use a little joy in their holiday season. Shopping for good—it's real.
Here are some of TOMS' coolest winter-ready items to shop—make sure you have your favorites picked out and ready to snag the second the sale goes live.
Walking In Winter Wonderlands
Literally. TOMS' classic silhouette gets a super festive update thanks to a felt tree-emblazoned print. They're the perfect shoes to have on your feet while unwrapping gifts around the tree.
Cool, Dude
You won't find a pair of sunnies more stylish than these. From their rounded gold lenses, wire frame, and aviator-inspired shape, they're the epitome of classic cool.
Mix n' Match
The different fabrics of this sneaker come together for a cool vintage look.
Feeling Blue
Tinted lenses always make sunglasses look instantly cooler, like these cat eye tortoise shades. Their blue and brown hues complement each other perfectly, and their shape boasts a cool throwback appeal.
Take A Hike
Hiking boots are trending for fall, and these are honestly some of the best affordable ones I've seen! The red laces and thick treads give them an authentically outdoorsy vibe, meaning you could actually wear these for a day on the trails (not the case for many hiking-inspired styles currently on the market).
The Fuzz
Like little wearable teddy bears.
Slip Up
I'm a sucker for a good pair of cozy slippers, and these faux shearling lined ones would definitely make my feet happy!
Sock It To 'Em
Because you can never have enough pairs of high cozy socks during the winter.
Slip-Up
These leather slip-ons look like something you'd buy at a high-end Italian shoe store. Well done, TOMS! Bravo!
Throw Shade
They go with anything but are the opposite of boring. That's a hard balance to achieve.
Classic Act
And finally, what would a TOMS round-up be without a pair of their signature canvas style?