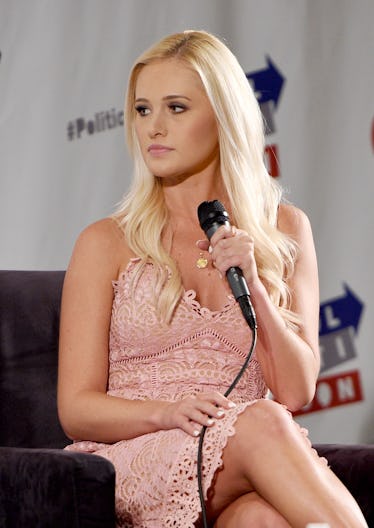 Tomi Lahren Slammed Michelle Obama On Twitter, But It's Not Going Over Too Well
Joshua Blanchard/Getty Images Entertainment/Getty Images
Surprise. Conservative pundit Tomi Lahren is making headlines once again for yet another controversial comment. This time, it was directed at former first lady Michelle Obama. On Sept. 24, the talk show host took to Twitter to express her dissatisfaction with recent comments Obama made commending the work of her husband, President Barack Obama, but it didn't go over to well. In fact, Tomi Lahren's tweet about Michelle Obama is catching a ton of heat on Twitter.
According to Ebony, Lahren took aim at Obama over a speech she gave on Sept. 23 at the "When We All Vote" rally in Las Vegas urging people to register to vote ahead of the upcoming midterm elections. During Obama's address, she mentioned how America "had a great president," seemingly in reference to President Obama, which Lahren appeared to take issue with. She sent out this fiery tweet telling the former first lady to "sit down":
Michelle Obama said we "had" a great president. By what measure? Not in economic growth. Not in border enforcement. Not in strength on the world stage. Sit down, Michelle.
Elite Daily reached out to representatives of Obama and Lahren for comment, but did not immediately hear back.
Unsurprisingly, Lahren's tweet was immediately met with backlash, as many people felt the comments were disrespectful and uncalled for. Multiple tweets shared on Twitter were even calling for Lahren to "sit down" instead.
One user who goes by the name Mikki Roberts wrote, "Your lack of respect for a former First Lady, who out-ranks you in character, intelligence, poise, and class shows just how ignorant and trashy you are. No Tomi, YOU sit down!"
Oof.
"... Say all you want about Trump, guns the GOP BUT D*MMIT DO NOT TELL MICHELLE OBAMA TO SIT," another person wrote.
There were also multiple arguments about President Obama's impact on America and around the world. Some people brought out the receipts, is what I'm saying.
Of course, there were some people who agreed with Lahren.
And others who pointed out that Obama has other things to do than "sit down, like prepare for the 10-city book tour she'll embark on for her upcoming memoir, Becoming, starting in November. Whew, the shade.
In Lahren's defense, perhaps she took issue with the whole "had a great president thing" because President Donald Trump notably swept to her defense back in May after she was reportedly harassed at a bar in Minnesota. Multiple reports claimed that a patron confronted and threw a drink on her, which prompted cheers from fellow diners and from critics on social media. After catching wind of the unfortunate moment, Trump publicly expressed his support for the commentator. He wrote on Twitter: "Everybody is with Tomi Lahren, a truly outstanding and respected young woman!"
Who knows. I'm just over here trying to make sense of her comments, too.
But given that Lahren has already shared a few tweets in response to her critics, it looks like she's not too bothered by the blowback. Take that for what it's worth.