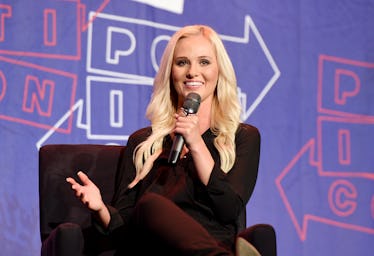 Trump Tweeted Support For Tomi Lahren Following A Bar Incident
Joshua Blanchard/Getty Images Entertainment/Getty Images
In between tweets accusing American intelligence agencies of conspiring against his 2016 presidential campaign, the president tweeted about something marginally unrelated to politics: Tomi Lahren. President Donald Trump shouted out the Fox News host amid reports that she was harassed at a bar in Minnesota. With one line, Trump's tweet about Tomi Lahren displayed a show of support for the host.
"Everybody is with Tomi Lahren," Trump tweeted on Wednesday, May 23, "a truly outstanding and respected young woman!"
According to TMZ, Tomi Lahren had gone to a Minneapolis bar the previous weekend for brunch with family members. While at the venue, a patron threw a glass of water at her, TMZ reports.
In videos posted by TMZ on Tuesday, May 22, and those circulating online, Lahren can be seen confronting other patrons while obscenities are shouted at her. At one point in a video that shows Lahren speaking to another man, a voice can be heard saying "Racist ass b*tch, why you even out here?"
The night before Trump shouted her out, Lahren tweeted, "I appreciate the words of support- even from those who normally dislike me. Free speech is a gift- no need to resort to that kind of attack. I'll discuss the restaurant incident on @foxandfriends tomorrow morning."
The next morning, Lahren indeed went on Fox & Friends, which the president is known to frequently watch, and the appearance seemingly led to Trump's tweet.
The circulated videos, along with Trump and Lahren's tweets, can be seen below.
"We were just enjoying brunch after I did a show the night before and unfortunately there was a group of people probably around my age that thought it would be funny to throw water at me and then start chanting profanity," the 25-year-old commentator told Fox & Friends. "Not something that I'm not used to, but really disheartening."
The incident involving Lahren is not the only one of its kind, specifically involving a woman at Fox News. In July 2017, Kat Timpf — a self-described libertarian — reported a bottle of water being thrown over her head before she gave a speech in Brooklyn.
"I was stunned," Timpf told The Cut. "He very clearly came for this specific purpose. That's what's scary to me: that someone out there knows who I am and hates me that much."
She later opined that the incident was the result of the political climate. "It's all about hating or unconditionally supporting certain people as ideas," Timpf said. "People are objects of hate or admiration depending on what side they're on. We see them as caricatures rather than human beings."
During her appearance on Fox & Friends, Lahren offered a similar critique as Timpf did a year prior.
"You don't have to like me, you don't have to agree with my political opinions, but you don't have the right to throw things at me," Lahren said. "Is that the point that we got in this country, that you can't disagree with somebody civilly without resorting to something like that? It's really disheartening, but again, I'm tough, I can handle it."
Where Lahren and Timpf differ, of course, is in the reputations each has built. Lahren in undoubtedly a commentator of higher profile, but that profile was built on a back of shock-value commentary — like a tweet equivocating the Ku Klux Klan and Black Lives Matter — which helped her become the subject of viral videos as a host for The Blaze.
That commentary has earned her a reputation among her harshest critics as someone who distinctly appeals to racism. From the looks of the incident in Minneapolis, it seems like the patrons she confronted are definitely among those harsh critics.