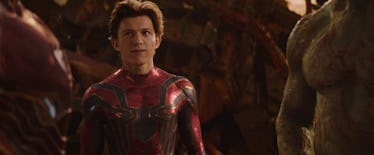 Tom Holland Improvised His Final 'Infinity War' Scene & Wow, I Love Him Even More
Marvel Studios
Spoiler Alert: Spoilers for Avengers: Infinity War follow. There are so many superhero characters in Avengers: Infinity War that you could argue that no one got a great amount of screen time in the mashup, but Tom Holland's Peter Parker excelled with the moments he had. Continuing to deliver the perfect portrayal of what Peter/Spider-Man should have been throughout his many movie reincarnations, Holland is an adorable scene-stealer, but I seriously can't handle him after hearing this little bit of behind-the-scenes gossip. Supposedly, Tom Holland improvised his final Infinity War scene, and I'm even more in love with him now.
In Infinity War, Thanos celebrated gathering all six Infinity Stones by beginning his wipeout of half the universe's population. Compared to the disappearing act setting in across Wakanda, the power affecting those who were elsewhere was perhaps even more heartbreaking. A group consisting of Tony Stark, Peter Quill, Peter Parker, Drax, Doctor Strange, and Mantis quickly narrowed down to just Iron Man, but not before Spider-Man made a devastating exit. Realizing something was happening to his body, Peter stumbles into Tony's arms, mumbling, "I don't feel so good, Mr. Stark" before he vanishes into thin air.
Ugh, my heart.
If reminiscing about this moment wasn't upsetting enough, HelloGiggles reports that Peter's killer line was — wait for it — improvised. A Reddit user who witnessed an Iowa panel discussion with Infinity War co-director Joe Russo claims that the filmmaker revealed he instructed Holland to "act like you don't want to go." The result was what we saw and most definitely cried a little over. Do awards for best movie improvisation exist out there?
Luckily, anyone who has researched Marvel's future films isn't feeling too torn up about Peter's "death." A Spider-Man: Homecoming sequel is due to hit theaters on July 5, 2019, only about a month after the Infinity War sequel premieres. Producer Amy Pascal has even revealed that the sequel will pick up literally moments after Avengers 4's ending, telling Fandom:
What I think we should focus on is this Spider-Man who started in Civil War and then has this movie, and then will be in the Avengers movie. And we are starting now the next one which will start a few minutes after Avengers 4 wraps as a story.
Spidey's new story is expected to explore Peter's transition from the traumatic events of Infinity War back to being a regular teen. So, I'm basically putting my money on Stan Lee returning as Peter's bus driver someday soon. The story is scheduled to begin filming in London this summer, but Marvel Studios president Kevin Feige hinted to IGN that Peter will still be in his native New York at some point, saying:
He is one of us. He is, quote-unquote, a normal person, lives a normal life, with a normal environment, who, you know, got these powers, and who is exposed to these extraordinary things. And we loved how the events of Civil War, for as dramatic and intense and politically complex as they were, we loved how Peter dealt with it [in Spider-Man: Homecoming]. And how Peter dealt with it is, he then went and tried to go back to a normal life.
Holland definitely broke fans' hearts with Peter's goodbye scene, but it's safe to say that the other Avengers will find a way to bring him back in the next film. Unless Marvel has a surprise new Peter in store (Tobey Maguire in a comeback role?), we haven't seen the end of Tom Holland casually destroying our emotions.
Avengers 4 is in theaters on May 3, 2019, while the Spider-Man: Homecoming sequel will debut on July 5, 2019.