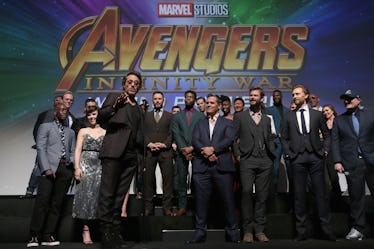 This Marvel Legend Had An Epic Cameo In 'Avengers: Infinity War' & Fans Lost It
Jesse Grant/Getty Images Entertainment/Getty Images
Spoiler Alert: Spoilers for Avengers: Infinity War follow. Not every film franchise is lucky enough to have one of its original creators still around to participate in its projects every now and then. While some of his past cameos aren't so obvious, comic book writer Stan Lee has developed quite the reputation for popping up in brief but memorable moments in Marvel films. The most recent Avengers film was no exception, and Stan Lee's Avengers: Infinity War cameo has fans feeling blessed about him adding another credit to his Marvel résumé.
Lee's cameos are infamously very blink-and-you'll-miss-it, but his moment in Infinity War actually felt a little longer than his usual time in the spotlight. When Thanos' cronies' spaceship starts to descend upon New York City in the beginning of the film, Iron Man and Doctor Strange spring into action within the city. Meanwhile, a distance away, Peter Parker's spidey sense kicks in while he's on his school bus. Turning toward the window, he spots the spacecraft, and viewers can totally see the gears in his brain start to shift as Peter tries to get best friend Ned's attention. They have such a cute friendship — when does the Spider-Man: Homecoming sequel come out again?
When Ned catches sight of the ship, he panics, setting the entire busload of kids into a frenzy. As everyone but Peter dashes off toward the emergency exit, Peter executes his escape route to investigate the ship, while the bus driver turns around, revealing himself to be Lee. In true cranky old man fashion, Lee tells his passengers, "What's the matter with you kids, you never seen a spaceship before?"
Poking fun at the fact that Marvel's version of New York seems to experience aliens more often than not, Lee's appearance probably warranted plenty of cheers at your screening. Before the majority of audiences even saw Infinity War, fans were already anticipating Lee's mystery cameo:
After seeing Infinity War, Twitter users obviously had to celebrate Lee's cameo, right?
Based on the film's trailer, some Marvel fans had even predicted the nature of Lee's cameo, always assuming that he was Peter's bus driver. Forget theories for the Infinity War sequel — I'm most impressed by people totally calling this scene:
Directors Joe and Anthony Russo clarified to Radio Times that they were never tempted to change up the norm and cast Lee in a bigger role in Infinity War. If it isn't broke, don't fix it, right? As Joe Russo told the Times:
Stan Lee cameos are pretty standard; they're standard for what they are and I think that's what the expectation is for the audience.
Lee also praised the details of his cameo, telling a reporter at the film's Los Angeles premiere:
I want to thank [fans] for having spent all these years coming to see my cameos and, of course, watching the movie with it. And now I think they're going to find the funniest cameo of all. I can't wait until they see it.
Lee's involvement in the celebrations surrounding Infinity War's release comes only months after he revealed in February that he was recovering from a bout of pneumonia. In a video message directed to his fans, Lee said:
I want you to know that I still love you all and I think that Marvel and Spidey and I had the best group of fans that any group in the world ever had and I sure appreciate it. So let me know how you're doing. I hope everything is going well for you. And I hope next time we talk, I'll be in even better shape. Maybe I'll even have some of this pneumonia knocked down. and we can have some real fun over the incident. Till then, excelsior!
Aw. The Avengers may be at a total loss about what to do next after that Infinity War ending, but as long as we keep getting our Stan Lee cameos, I don't think fans can revolt against Marvel that much.