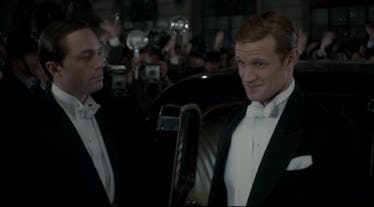 This 'Outlander' Star Will Be The New Prince Philip On 'The Crown' & I'm Pumped
Netflix
Netflix's hit series The Crown is an outlet for some of us to finally get the inside scoop on Queen Elizabeth II and, thanks to the spot-on castings, it can easily feel like you've skyrocketed back to the mid-1950s and are living out the real thing. So if you're a fan of the show, boy, do I have some good news for you! No, Matt Smith won't be reprising his role in the series, but the newest casting might turn your frown upside down. On March 28, it was revealed that Outlander's Tobias Menzies is cast as Prince Philip on The Crown Season 3 and I'm completely fanning out.
According to USA Today, Menzies, who has starred in other hit shows like Rome and Game of Thrones, will star as Prince Philip for The Crown's next two seasons. He'll be stepping in for Smith, who previously played the role of the prince in the show's earlier seasons, and he's a nearly-perfect fit: Menzies, though shorter than Smith by an inch, is the same height as the actual Prince Philip. The downside is that the Outlander actor has brown hair, which means he'll have to bleach it or wear a blond wig, as his predecessor did, but I'm sure he'll pull it off just fine.
I'm definitely here for this. Might as well give him an Emmy now!
The show got an entire new cast.
Since the show covers events that occurred over a widespread span of years, creators ultimately wanted the cast members to reflect the later years of the real characters. So, aside from Smith's replacement, Helena Bonham Carter will be replacing Vanessa Kirby as Princess Margaret, and Olivia Colman is replacing Claire Foy as Queen Elizabeth II. The show's creator Peter Morgan told Variety that Colman, who starred in productions like The Iron Lady and The Night Manager, was the perfect fit for the role. He said, "I think we all felt Olivia had something that corresponded [to what we wanted], that ability to be both plain and dazzling, and to be both knowable and unknowable."
Morgan added that The Crown's third and fourth seasons will be taped consecutively, and said that he's been working diligently to get them finished. Season 3 is expected to take place between 1964 and 1976, which means that, according to Harpers Bazaar, we could get some really juicy stories: The publication reported that the series could revisit the queen's tour of Canada in 1964, which was reportedly saddled with rumors of assassination attempts. We might also see Prince Charles' journey into the spotlight. Or we could even get an inside peak of the downfall of Princess Margaret's marriage to photographer Antony Armstrong-Jones — aka the Earl of Snowdon. I don't know about you, but whatever the plotlines are, I'll definitely be tuned in.
There's no bad blood between creators and the actors who got replaced.
In December 2017, Smith told IndieWire that he was happy with the show's decision to rotate characters. He revealed,
I am aware of what it's like to hand over a part you really like playing to someone else. I always knew that was going to be the case, and actually as an actor, I am quite happy. I am quite pleased about it because, being honest with you, the idea of spending six seasons on anything makes me feel a little jittery… I think if they pull off this feat of TV where every two years they change the cast — what a wonderful thing to be part of.
Foy echoed similar comments in a 2016 interview with Vulture, expressing her faith in the directors' and producers' abilities to pull off the swaps. She said,
I don't how they're planning on doing it, but they're such an incredible bunch of directors and producers that it's gonna be different and exciting. It'll be original. I can't wait to see where it goes. I'm so honored to have been involved at this stage.
I can't wait to see where it goes, either. Menzies is a phenomenal actor, and when we finally see him in costume, I'm sure we won't even be able to tell the difference between him and Phillip.