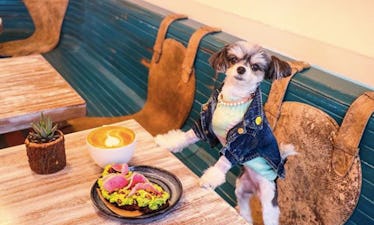 The Woman Behind Tinkerbelle The Dog's Viral Instagram Account Is Serious Dog Mom Goals
In a post-Kardashian world, every millennial thinks they have what it takes to go viral, but few consider what that online fame actually looks like in a person's daily life. In Elite Daily's new series, Life Behind The Likes, we speak with the people you know on the internet — from the people behind major Instagram accounts to the Daaaaamn Daniels of the world who went viral for one remarkable moment of their lives — to meet the people behind the screens.
OK, this might sound a little silly, but it's pretty much set in stone that my future dog will have his or her own Instagram page — no ifs, ands, or buts. But Sam Carrell, the owner of Insta-famous dog, Tinkerbelle, didn't plan on making her furry friend famous from the get-go. In fact, she never even really planned on getting a dog in the first place. I was able to speak with Carrell to find out what it's really like to raise a celebrity pupper, and although it was totally unplanned, it completely transformed her life for the better.
Tinkerbelle is a five-pound rescue pup, and TBH, her resume is longer than mine will ever be. She's starred in Cartier ads, secured a part in Gypsy on Broadway, and she boasts over 250,000 followers on Instagram, Facebook, Twitter, and musical.ly altogether. Her closet is absolutely gigantic, and she's been nominated for several different awards. All I can say is if she were my dog, I'd be an incredibly proud dog mom. While Carrell is overjoyed with how her beloved pup turned out, she never intended on raising a famous dog, or even a dog in the first place. In fact, Tinkerbelle kind of fell into her hands. It was almost like fate.
"I actually adopted her by coincidence," Carrell says. "My friend owns a dog shelter, and I was in the neighborhood one day. I heard a commotion going on in the background, and my friend had told me about this little dog. I went in and opened the cage, and she came running out to me. Everyone in the shelter was shocked. She hadn't moved in two weeks, and she immediately came running to me."
Despite the fact that Carrell had no prior pet care experience, she felt this was meant to be. Right away, she made sure to do her research and started out by covering all the basics: bathing her, buying her food, and, most importantly, bringing her on walks. And from those walks, the pup's fame took off.
"People would stop me on the street, and I thought that was just part of owning a dog," she explains. "One of the people who happened to stop me one day happened to be an animal agent, though, and she said she wanted to work with her. Within a week, she was booked for a Ralph Lauren shoot."
The shoot with Ralph Lauren was only supposed to take a few minutes, but it ended up going on for about six hours. The famed designer absolutely adored Tinkerbelle, and was shooting her in a variety of jackets and poses. The camera seemed to love her, and she seemed to love it back. Shortly after the shoot, Carrell's agent convinced her to get a start on Tinkerbelle's social media pages to further her career.
Sam hadn't thought of creating pages for Tinkerbelle before, but she figured, "Why not?" and created her accounts. Tinkerbelle's posts ended up gaining more engagement than she would have imagined, and her following skyrocketed after being featured in a YouTube video with Gina Naomi Baez, covering the popular Frozen song, "Let It Go."
Carrell continued to book high-profile projects. At this point, Carrell was feeling super confident about her newfound pup, but her family — who had never owned a pet — was still a little unsure about all of it.
"My family was very hesitant at first," Carrell admits. "They were like, 'What's going on?' My mom thought I was thought I was insane. My sister didn't even really believe me until Tinkerbelle was invited to a Teresa Giudice book release, and since I always bring someone along to help, I brought my sister. She met everyone she's obsessed with, because she loves TV, and when she got home, she said, 'This dog is famous, you don't understand!' And that's when my mom started believing it. My mom secretly thinks it's amazing, and tells all her friends in secret, too."
While Carrell's family wasn't initially super supportive, her roommate was astonishingly accepting of Tinkerbelle's fame from the very beginning.
"My roommate thought [bringing home Tinkerbelle] was amazing and great," says Carrell. "Plus, once the work and fame kicked in, she started helping me so much by coming to events and helping me post if I don't get to it."
While Carrell has a full-time job owning a dance school called Leggz Ltd. Dance in Rockville Centre, New York, and professionally acting and dancing on the side, she's also got a full-time job in managing Tinkerbelle. "Day to day, I'm answering emails 24/7, responding to inquiries for her, and setting up shoots," she tells me. "Once a week minimum she gets a bath, but I make sure she gets a bath before going to photo shoots. I'm also constantly posting on social media, as well as Stories in between posts. I juggle everything in addition to a 24/7 job."
Even though Tink's schedule is busier than anyone I've ever met, Carrell primarily focuses on Tinkerbelle's well-being. "Daily, it's just making sure she's happy. She comes first and she's my best friend. Not coming from an animal household, I hadn't realized you could have this deep kind of bond with an animal," she tells me.
For those trying to pursue a career in social media, Carrell says it's hard work, and takes a lot of determination and accountability. Oftentimes, there aren't set hours, so it's completely up to you to stay on top it all.
"If you are looking towards a career in social media, make sure you are ready to work hard and not punch a clock," she says. Social media is a 24/7 job, and you need to keep up on the pages you are responsible for plus be aware of whats happening on social media in general, like trends and holidays. There are lots of social media platforms, so it can be overwhelming at times, but also at the same time, fun! Its an amazing field to work in as long as you put in the time. Hard work pays off."
In terms of future endeavors, Tinkerbelle recently signed a partnership with Experience Kissimmee, the tourism authority for Florida's Osceola County. In November, Carrell and Tinkerbelle will be going out there for an entire week to shoot videos and pictures. They'll also be designing storyboards for their upcoming project, which will guide customers to all of Kissimmee's pet-friendly locations.
It's a big and exciting project, and all of it still seems surreal to Carrell. She tells me, "With everything that happens, I think, 'Wow, this is a big deal!' And then something else happens, and I think, 'Wow, this is an even bigger deal!' The bar keeps raising, so who knows what's next."