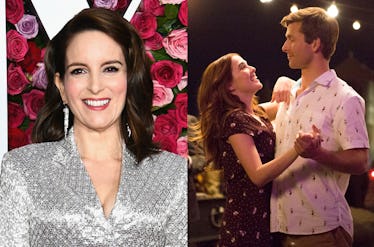 Tina Fey Had A Tiny, Tiny Cameo In 'Set It Up' & You Definitely Missed It
Dimitrios Kambouris/Getty Images Entertainment/Getty Images & Netflix
I know I definitely wasn't the only one who spent last weekend with a pint of ice cream and the new Netflix rom-com Set It Up. As someone who desperately misses the sweet timelessness of movies written by people like Nora Ephron and Richard Curtis, I adored this film's modern love story about two overworked assistants trying to make a match between their equally-busy bosses. Although the rom-com included some hilarious cameos from Pete Davidson and Tituss Burgess, Tina Fey's Set It Up cameo was one you definitely missed. Of course, this just means that it's time for a movie re-watch!
In case you were too distracted squealing at Set It Up's cuteness to notice the names in the credits, you should know that we have a fierce lady duo to thank for this unexpected bout of joy. Making her feature debut, director Claire Scanlon has helmed episodes of The Office, Brooklyn Nine-Nine, and Unbreakable Kimmy Schmidt. Screenwriter Katie Silberman has worked as a producer on big-screen blockbusters such as How to Be Single and Hot Pursuit. We could have a long debate about how female directors and writers are typically so underrepresented and how Set It Up's success is a big deal, but for now, we'll focus on the movie's ladies-supporting-ladies occurrence behind the scenes.
Scanlon, who was heavily pregnant while shooting Set It Up, used her Kimmy Schmidt ties to toss in a quick Easter egg for fans of the Netflix comedy. While Burgess's creepy janitor character was a uproarious step away from his role as Kimmy Schmidt's flamboyant Titus, the entire movie actually begins with a vocal cameo from Scanlon's former Kimmy Schmidt boss, Tina Fey. Remember that opening montage of unseen bosses making ridiculous requests to their stressed assistants? Watch it again and you'll hear Fey's familiar voice calling out the first demand.
In an interview with Entertainment Tonight, Scanlon revealed:
The first voice that you hear is Tina — she says, 'Jessica! The phones!' — that's because Jessica was her assistant, and when I was working on Kimmy Schmidt, I knew Jessica. It meant something to me to have Tina... we were shooting, it was April and I was in New York prepping the film, and I asked Tina if I could just come by her office. And I was like, 'Can I do this?' And she was like, 'Oh god, we're not talking about that. Of course you can do it.' Tina is great. She's just as cool as you think she would be. When people ask me what it's like working with her, I'm like, 'Everything you would hope it would be and more.' She's just great, and that was really meaningful that that's the first voice you hear.
I didn't think Set It Up could get any better, but the story of Fey's support makes me love this movie even more. While the film partially focuses on women pursuing their dreams in a male-dominated industry, Scanlon also found opportunities to include more supportive, comedic voices in the opening, and the love she received from them sounds incredible. She told ET:
Jeff Garlin has been insanely supportive, and he says, 'Jonathan, cancel my 10 o'clock!' I don't think anybody knows this about him, but he's just super supportive and helpful to women. He's just a very nice guy who's like, 'Are you being treated OK?' And this was all before the #MeToo movement and the Time's Up stuff. I directed him a bunch on The Goldbergs, and we clicked right away... Ellie [Kemper] is in there. And then finally, Craig Robinson's in there.
I didn't need a reason to justify a Set It Up re-watch, but I'm definitely playing it again to catch all of these celebrity voices. Perfect pieces of art can certainly be left alone sometimes, but the film's success has inspired talks of a sequel once again involving its main characters Harper (Zoey Deutch) and Charlie (Glen Powell). Viewers who related to Lucy Liu's career woman Kirsten are also curious about whether she could find true love in a future story. Scanlon told ET:
Katie Silberman, on set, was joking, like, Harper and Charlie go to a wedding and they want to set up their friends! So, she's already thinking about it... I also would love to see what goes on with Kirsten. I want her to have somebody, I do. I think she deserves it. I think she's a good person, so of course I want to see that resolved.
Whether or not we see more of these characters in the future, I'm so happy that Netflix has made efforts to produce quality romantic comedies during the world's current unsettling times. Do you think Scanlon could bump up the joy levels and sneak in a physical cameo from Fey in a Set It Up sequel?