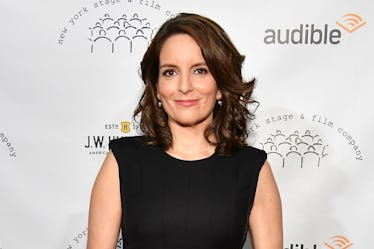 Tina Fey Opens Up About 'Mean Girls' Legacy & She's Fetcher Than Ever
Dia Dipasupil/Getty Images Entertainment/Getty Images
It's difficult to imagine a time when Tina Fey wasn't, well, the Tina Fey, but when her comedic hit Mean Girls hit theaters in 2004, she was far from being the beloved and recognizable powerhouse she is today. With creative credits on two TV comedies and a lengthy resume of film appearances under her belt, Fey has now tackled Broadway, writing the book for the new stage musical adaptation of Mean Girls, which officially opened on April 8. Drawing parallels between her film and the current political and social climate, Tina Fey's quotes about Mean Girls in 2018 proves that the movie is even more relevant now than ever before.
Speaking to Variety, Fey pointed out that the film's message of not wrongly spreading hate toward others now applies to far more than just teenage girls:
It has metastasized. [The movie's message of] calling someone a loser doesn't make you a winner... It's so incredibly obvious, but still, apparently we need to be reminded. We all do it, on both sides. Once you're laying the mud, you're all the mud. People have connected [Mean Girls and politics]. I think I've seen somebody on Stephanie Ruhle's show on MSNBC say, 'Look at the Mean Girls behavior among the administration.' Sure, if that works for you.
Fey has spent approximately five years adapting the movie for the stage, working alongside her composer husband Jeff Richmond to create a version of Mean Girls that would excel onstage. A trial production of the Broadway musical ran in Washington, D.C. last fall, and Fey served as a supervising presence as the project approached opening night in New York:
I don't want to be a distraction. It's funny, because I go to Broadway shows all the time. No one cares. Because it's this, if they see me, they want to make friends... With every draft [of the film Mean Girls], the girls became more interesting. The first draft would have been rated R. Even in the PG-13 movies, we had to take a lot of things out.
Fey, who played math teacher Ms. Norbury in the original film, isn't making her Broadway acting debut just yet, and the rest of the movie cast has yet to stop by the new production. While Fey hasn't spoken to main actress Lindsay Lohan in a few years, she joked to Variety that Lohan's ideas for a reunion film would be much appreciated. Well, I think we're all overdue for a Lindsay Lohan comeback, so I'm not complaining about that possibility, but Fey still seems glad that a Mean Girls sequel never happened:
God bless. Send [ideas] in. Anyone who actually sits down and types, I'm like, 'Great.'... I was like, 'No sequel.' In hindsight, I'm like, 'Why didn't we just do it?' But maybe it's better, because we can save all the energy for [the musical].
Discussing the musical with the rest of its creative team in a New York Times interview, Fey also acknowledged that the world of Mean Girls currently isn't as black-and-white as it was at the time of the film's release:
Since the film, we have ostensibly more female unity. But we also have trouble, right? We have white feminism and intersectional feminism. We have women not believing women. But it also does feel like the message of the show has expanded beyond just relational aggression among females, and it's sort of about relational aggression, which has metastasized in many ways.
From the sound of it, Fey has tried to mold the story for a modern audience as well as possibly. Our favorite movies definitely have problematic sides, but the Mean Girls legacy appears to be ever-changing to fit the times, which is definitely fetch. Until then, fans can hit up the Mean Girls musical on Broadway.