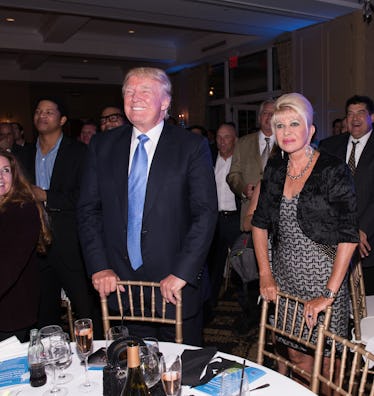 Timeline of Ivana & Melania Trump's Relationship Shows A Tense History
Dave Kotinsky/Getty Images Entertainment/Getty Images
There's been lots of talk recently about President Donald Trump's ex-wives, and the feud that has been ongoing between First Lady Melania Trump and ex-wife Ivana Trump. Mr. Trump is the first president in U.S. history to have had multiple divorces, and apparently that comes with ex-wife drama waiting to happen. The recent feud between Melania and Ivana started when Ivana Trump went on CBS Sunday Morning to promote her new book, Raising Trump, in which she talks about how frequent her and the president speak, and her influence over some of his decisions. Since people are probably sick of talking about President Trump, they've decided to move on to his romantic counterparts. Here's a timeline of Ivana and Melania Trump's relationship, showing a somewhat tense history.
Donald Trump and Ivana met in 1976 in New York City, after Ivana had moved to the U.S. from Czechoslovakia to pursue a career in modeling. The pair married in 1977, less than a year later, and had three children, Donald Jr, Ivanka (real name Ivana Marie), and Eric. Ivana was then hired by Trump to work for Trump Organization as vice president of interior design. She later became president of the Trump's Castle casino resort in Atlantic City.
The two had a divorce that was highly publicized in the tabloids, as Trump cheated on Ivana with ex-wife Marla Maples. After the divorce was finalized in 1991, Ivana had custody of the three children, and Trump married Maples, who Ivana repeatedly bashed in the media. They had a tense relationship after the divorce, and still do, as Ivana still refers to her as "showgirl" instead of her name, saying she "knowingly entered into a relationship with my husband, the father of three small children." Despite this rigidity, Trump and Ivana remained friendly, and apparently still are.
Maples and Trump had one child together, Tiffany Trump, and the two quickly divorced in 1997. In another speedy turnover, similar to his last marriage, Trump was dating Melania Krauss, the model, by 1998. The two married in 2005.
Ivana has a history of relaying her opinions to the press, like in 2015, when Trump was focusing on campaign efforts, she told the New York Daily News,
She can't talk, she can't give a speech, she doesn't go to events, she doesn't (seem to) want to be involved.
Interestingly enough, Trump, who clearly has a thing for women with accents, said that Ivana's accent was charming at first, but couldn't stand it after a while. In a radio interview with Howard Stern from 2002, he spoke about Ivana's accent saying, "Yes, it was amazing, and then one time I woke up that [sic] it was terrible, I couldn't stand it."
As of recent, Ivana has made bold claims about her position as influencer in the president's decisions, saying she had a direct line to the White House. She told ABC,
I [don't] really want to call him there, because Melania is there. And I don't want to cause any kind of jealousy or something like that, because I'm basically first Trump wife. OK? I'm first lady.
In the same ABC interview, Ivana spoke of Melania's role as first lady saying, "I think for her to be in Washington must be terrible. It's better her than me. I would hate Washington."
She went on to speak on her first-lady abilities, however, saying
Would I straighten up the White House in 14 days? Absolutely. Can I give the speech for 45 minutes without [a] teleprompter? Absolutely. Can I read a contract? Can I negotiate? Can I entertain? Absolutely. But I would not really like to be there. I like my freedom.
Melania Trump's office released a statement shortly after denouncing Ivana's claims saying, "There is clearly no substance to this statement from an ex, this is unfortunately only attention-seeking and self-serving noise."
With all that to say, Ivana still claims her and Melania are amiable. In an interview with Fox News, she said, "there's absolutely no problem" between her and the first lady.