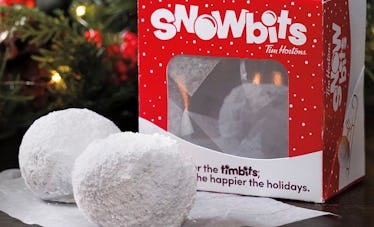 Tim Horton's New Holiday Dessert Will Have You Nostalgic For Snowball Fights
Courtesy of Tim Hortons
Whenever I think about holiday desserts, a few things come to mind. I usually picture warm gingerbread cookies, boxes of chocolate truffles, and dozens of peppermint candy canes. Thankfully, Tim Hortons is throwing a different holiday dessert into the mix — and it'll make you nostalgic for snow days. More specifically, Tim Horton's Snowbits are here, and they're oversized Timbits that look like actual snowballs. If you're a fan of the chain's mini doughnuts, then you're bound to like the wintry spin on the treat.
Tim Hortons' Snowbits were officially announced on Wednesday, Nov. 28 — but they won't be available until Saturday, Dec. 1. Once they're up for grabs, only a handful of lucky Tim Hortons customers will be able to try them. According to a press release provided to Elite Daily, the first twelve customers who mention Snowbits at a handful of Tim Hortons locations will be given two-packs of the treat (one for the customers, and one for their friends). The participating locations where quick customers can score a free pack of Snowbits are as followed:
If you live near any of those Tim Hortons locations, mark your calendars and get ready to show up early. When you're there, mention Snowbits and hope that you were fast enough to score a two-pack.
So, what exactly are Snowbits, anyway? According to Tim Hortons, Snowbits are simply oversized Timbits that are covered in powdered sugar. Believe it or not, each one is three times the size of an original Timbit, which makes them look even more like snowballs.
TBH, I'd much rather have a friendly Snowbit fight instead of a classic snowball fight. Could you imagine how sweet that would taste?
Once Dec. 1 rolls around, go ahead and try to get a free two-pack of the holiday dessert. But if you miss out on the opportunity, don't be too upset. Snowbits aren't the only holiday-themed food that Tim Hortons is releasing for the 2019 season. In fact, the release of Snowbits is helping the company announce its new holiday menu and festive cups. By the sound of it, Tim Horton's holiday cups might give Starbucks a run for its money. Apparently, they'll be decorated with reindeer, snowmen, skis, and sleds.
Shawn Thompson, President of Tim Hortons U.S., talked about the company's upcoming holiday products in a press release. He said, "We are celebrating the return of the holidays and thanking our guests this holiday season by giving away free Snowbits at select stores on Dec. 1. We encourage guests to get into the holiday spirit by sharing a Snowbit with a friend alongside a holiday beverage in our festive winter-themed cups."
If I end up scoring a two-pack of Tim Hortons' new Snowbits, I'll definitely share mine with a friend. However, I don't think I'd waste it on a Snowbit fight. I'd much rather enjoy it with a cup of hot cocoa and save the fun for actual snow.