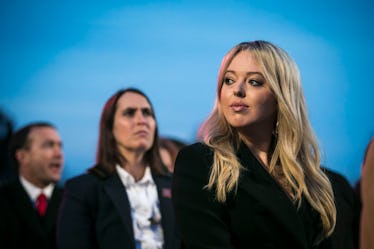 Tiffany Trump Got Called Out For This Detail In Her Easter Photo & It's Ridiculous
Pool/Getty Images News/Getty Images
I guess it's that time again when people decide to comment on the "appropriateness" of women's clothing choices. While taking a break from Law School to stop by the annual White House Easter Egg Roll, Tiffany Trump took the opportunity to pose for a new White House portrait. But Tiffany Trump's Easter portrait has people pissed for the most ridiculous reason.
Her shoulders. No, seriously.
During the April 2 Easter Egg Roll, Trump snuck away for a bit with White House photographer Shealah Craighead to take a few photos. The youngest Trump daughter posed in front of a window dressed up in a chic Taoray Wang white dress with an off-the-shoulder asymmetrical collar. If you ask me, Trump looks super sophisticated and beautiful. It's sort of party-meets-business with that flattering "suit-dress style." I am not a fashion expert, but she looks great and pretty conservative.
Trump posted a photo of the portrait to her Instagram, and some commenters agreed with my assessment, calling her "beautiful," "elegant," and "stunning." There were also more than a few commenters who really wanted that dress (I do too). But some other commenters did not feel at all the same way. There were a few folks who felt that the off-the-shoulder look was not appropriate for the White House.
Someone with the Instagram handle @mrs_wemette had a particularly strong reaction to Trump's outfit, calling it a "cosmo photo shoot," according to Yahoo. The user wrote,
With an off the shoulder jacket? How is this appropriate? Have other adult children had cosmo photo shoots in the White House?
Other commenters felt that Trump looked great, but the style was a "no" for the White House. For example, @hollywoodla6 wrote,
You look fab, but the off one shoulder is awkward & looks tortured. It's a no, especially for the WH.
And then there were some people who came to Trump's defense, saying how ridiculous it is to be commenting on her shoulders in 2018. Commenter @andyrue11 wrote,
There is nothing undignified about a woman showing her shoulders... it's 2018 not 1918. I am done with this conversation. Educate yourself on your own bc I'm out.
I'm going to go out on a limb and say @andyrue11, you are absolutely correct. Seriously, people, they're just shoulders! And you know what, they aren't even full shoulders. No. It's just the top of one shoulder peeking out like a little flower about to bloom from the grass. Very springtime.
Come on, Trump looks beautiful and super chic. There is no reason for anyone to be commenting on her shoulders — er, excuse me, single shoulder.
Also, need I remind you of that the president himself has said some less-than-appropriate things about women, so there are bigger issues here than seeing a collarbone or two. In recent months, Trump has been criticized for siding with alleged domestic and sexual abusers like Rob Porter, who was accused of domestic abuse, and Roy Moore, who was accused of sexual misconduct with teenagers. Both men denied the allegations against them, with Porter calling the accusations "simply false" and Moore calling the allegations a political attack.
In December, Trump was also called out for an attack on Sen. Kirsten Gillibrand of New York which many saw as a sexual slur. "Lightweight Senator Kirsten Gillibrand, a total flunky for Chuck Schumer and someone who would come to my office 'begging' for campaign contributions not so long ago (and would do anything for them)," he wrote on Twitter. Classy, Don.
And of course, let's not forget the infamous 2005 Access Hollywood clip of the now president saying he could "grab [women] by the p***y," which was released in October 2016, shortly before the election.
So let me get this straight, it's okay to say whatever you want about women and be in the White House, as long as there are no shoulders anywhere? The irony is totally crushing me right now.
I'm a firm believer that it's no stranger on the Internet's place to comment on the appropriateness of a woman's outfit. I am sure there are far better uses for your time. Like actual political issues, perhaps. So one last time, leave Trump alone. She's not there for you to pick on. Also, Internet folk, maybe pick up some Gloria Steinem or a copy of Betty Friedan's The Feminine Mystique on your way home maybe you can learn a few things. At the very least, how not to tear down women on social media for exposed shoulders.