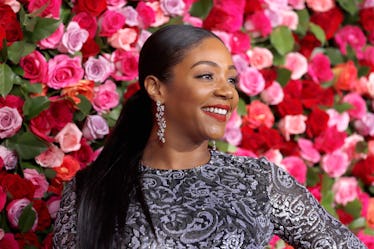 Tiffany Haddish's Net Worth Will Make You Emotional Considering Her Humble Beginnings
Jemal Countess/Getty Images Entertainment/Getty Images
Tiffany Haddish is one of that fastest-rising stars in Hollywood today. After her breakout role in the movie Girls Trip, Haddish quickly became a favorite on the late-night circuit, hosted the MTV Movie and TV Awards, slayed on the Met Gala red carpet, and became the face of Groupon. Not freaking bad. While Tiffany Haddish's net worth is impressive, you can tell it's only going to keep growing.
According to Celebrity Net Worth, Haddish has a net worth of $2 million. That might seem like small pennies when you compare it to some of her Hollywood colleagues, but any number followed by a "million" is epic to me. Haddish has also been open about growing up in poverty. She's spoken openly about growing up in foster care and she's admitted to Vanity Fair that she used to live in her car while trying to make it as a comedian. However, her famous friend Kevin Hart helped her out by lending her $300. To this day, he won't let her pay him back. Haddish told Vanity Fair,
[Kevin] saw all the stuff in my car. He had like this long discussion with me, you know? Basically like, "You're a beautiful woman. You could stay with any man. Why don't you just stay with a man, like?" And I was also like, I'm not sleeping with nobody for a roof over my head. I'm just not that type of person.'
She continued, "He gave me $300 and told me I shouldn't be sleeping in my car. He was asking me where I was sleeping. I told him, 'Beverly Hills. If Imma be homeless, I'm gonna be homeless in the best area.'"
Haddish explains she would park her car in front of Beverly Hills mansions and used the police asking her to move as an alarm clock. "The police would come every morning and make me move. That was like my wake-up call," she said. "I got to know a lot of police officers like that."
But let Tiffany explain it all herself like only Tiffany-Haddish can. She opened up about her come up to Stephen Colbert on The Late Show, and she'll have you laughing so hard that you'll almost forget her rise to the top was actually really challenging — and nothing to laugh about. Watch her tell her story starting at the 3:45 mark in the video below:
As for the $300 she owes Hart, Haddish says she's determined to get it back to him one day. She said,
Sometimes he gets on my nerves 'cause he tries to play the brother and tries to clown, but for the most part he's an awesome dude. I mean he gave me a job on Real Husbands of Hollywood, and I kept trying to give him his $300 back. He's like, 'I don't want that money. You keep that money. If I need you to be in something else, you just make sure you can do it.'
With her new net worth of $2 million, $300 sounds like pennies. But, with her success comes new obstacles, like sticking to her intense schedule as an actress and public figure. Haddish told Vanity Fair, "[The past year has been] exactly how I thought it would be except for the part where I'm sleepy all the time. I'm so sleepy most of the time but I guess it's 'cause I'm constantly doing things and trying to move forward and set up for the master plan."
She added, "The master plan is to be like little baby Oprah, with my own production company, maybe my own channel, inspire millions. So, yeah. A little bit tiring from time to time."
The truth is in Hollyweird an actor as hot as Haddish can double or triple their income in no time, and I'm sure if/when fans check back in, they'll discover Haddish's wallet has grown even more. She's one badass inspiration and someone I'm taking serious notes from.
Check out the entire Gen Why series and other videos on Facebook and the Bustle app across Apple TV, Roku, and Amazon Fire TV.