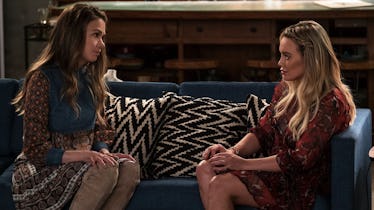 This 'Younger' Season 4 Recap Will Remind Of All The Wild Drama That Went Down
TV Land
Since it premiered, TV Land's Younger has been a wild joyride full of secrets, shockers, and surprises. The addictive dramady surrounds Liza Miller (Sutton Foster), a divorced New York mom in her 40s who decides to pose as a 26-year-old to land a job in publishing. If you can't recall all the craziness and the cliffhangers from last year's finale, a Younger Season 4 recap is probably in order.
Liza's been through a lot throughout the show's run thus far and her true identity has been revealed to some along the way, although her story has evolved into so much more than just concealing her truth. She's proven herself at work, had a rocky relationship with tattoo artist Josh (Nico Tortorella), and made a new best friend in Kelsey (Hilary Duff). Of course, one of the biggest issues in her life has to do with both career and love — she and publishing boss Charles (Peter Hermann) have serious chemistry that could lead to something real. Season 4 introduced a whole new set of dating dilemmas and professional predicaments. Let's dive into what happened, shall we? There's no shortage of drama inside the florescent halls of Empirical Press... and in Liza's personal life.
Wedding bells for Josh?
Um, yup. Josh went ahead and married Irish video game-designer Claire as her work visa was on the brink of expiration. While Josh admitted to Liza he still had feelings for her the night before the big day... he went through with the whirlwind romance (er, green-card) nuptials anyway much to the dismay of Josh and Liza shippers everywhere.
"Josh is an emotional, impetuous guy. He's not always making the best decisions," creator Darren Star told Variety of his unpopular choice. "He jumped into this as a way to put some distance between [himself and Liza]. He felt he had to do something drastic."
Bonus drama: Claire even asked Liza of all people to lie and say she met Josh six months ago so the marriage would seem legit. Not cool.
Charles and Liza: It's (Very) Complicated
Pauline (Jennifer Westfeldt) spiced things up in Season 4 when she stepped on the Empirical/Millennial publishing scene as a woman who wrote a book about taking a break from her suffocating marriage, aka a Marriage Vacation. Oh, she also just happens to be Charles' ex-wife. Pauline's presence and plans to reunite with her former hubby — plus the fact that Liza's editing her novel — obviously further tangled the whole Charles/Liza web of romantic tug-of-war. The finale concluded with Charles calling Liza in Ireland, which begs the question: will these two finally make things work?
Star discussed that move as well, revealing, "Liza had rightfully said to him that she's not getting in the way of a reconciliation and that she doesn't really feel like she has a rightful place in his life right now. But after things have gone, in his mind, just way too far with his wife's book, he has re-thought some things."
Zane Is Shaking Things Up For Kelsey (and Empirical)
Kelsey struck up a sexy relationship with deceitful rival publishing house editor Zane Anders (Charles Michael Davis) last season and he ultimately became a member of the Empirical team. Sneaky Zane actually pulled a fast one on Kels in the finale when he forced Charles to appear on camera with Pauline in order to promote Marriage Vacation.
Davis has been promoted to series regular of Season 5, so it looks like the Kelsey and Zane conflicts will continue. Hilary Duff hinted that it will be a "tumultuous season" for the competitive couple and noted "we can and we can't" regarding their romantic future. "It's so wrong that's it's right..." Davis added. Hmm.
Diana's Doing Her Own Thing
Diana Trout, Empirical marketing exec extraordinaire, looked like she might just go the distance with boyfriend Richard last year. Not so! She kicked him to the curb after realizing she didn't want to put up with his lies. You do you, Diana.
"It was very important to me in the episode that she breaks up with Richard that we not paint it as this sad and desperate moment — that she was gonna be alone, and that that's somehow pathetic," Miriam Shor, who plays Diana, explained to The Wrap.
Other details to remember from Season 4: Kelsey and Josh kissed (something tells me that might not factor in much moving forward), Lauren (Molly Bernard) became single again and lost her job, and Liza entertained a relationship with a fellow forty-something — an editor named Jay.
Season 5 of Younger premieres Tuesday, June 5 on TV Land. The trailer was just released, and boy does it look juicy...