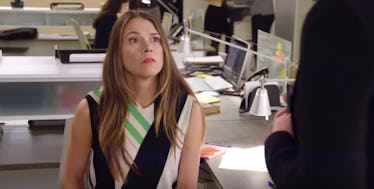 The 'Younger' Season 5 Trailer Is Here & Relationship Drama Is Coming
TV Land/YouTube
Another year, another season of the endearing Liza Miller (Sutton Foster) attempting to balance her advancing career with the lie that could potentially derail it. Yes — the publishing assistant is still pretending to be a millennial so she can work at, um, Millennial... and it looks like things are about get real crazy when it comes to her personal life. Rejoice! The Younger Season 5 trailer is finally here and it's all kinds of delightful drama.
TV Land just released the steamy clip, which features plenty of making out (both Liza and Hilary Duff's Kelsey seem to be busy in the romance department), work dilemmas, and tricky secret keeping. Pauline (Jennifer Westfeltd) has returned as Charles' ex-wife and she knows something's up, Kelsey is dating two guys, and Josh (Nico Tortorella) is looking all sadsies-faced. "My advice is sneak around and do it, like, 30 times until the novelty wears off... and then if it's still hot tell the truth, blow up your life, and maybe it will be worth it," Maggie (Debi Mazar) urges with some risky words of wisdom. I can only guess she's referring to Liza's relationship with Charles, which looks like it's about to seriously heat up. This show just keeps getting juicier.
The audience also gets glimpses of familiar faces like marketing boss Diana Trout, who's played hilariously by Miriam Shor. She's interacting with the free-spirited Lauren (Molly Bernard), which should be quite a trip. An assertive Liza declares she's not content to "play by the rules" in an agist society, so perhaps viewers shouldn't count on seeing her back down any time soon.
Next season of Younger will add some new characters to the mix, including Broadway vet Christian Borle as a journalist who Liza confides in. Musical theater lovers probably know that this is a reunion of sorts for Sutton Foster and Borle — the pair not only co-starred in Thoroughly Modern Millie and Gilmore Girls: A Year in the Life, they were married from 2006 until 2010.
Younger is already filled with some Broadway heavy-hitters, but the show is about to gain another one. Laura Benanti — five-time Tony Award nominee (one-time winner) and frequent Melania Trump impersonator just joined the cast. She'll play Quinn, a self-made billionaire pitching her business book to Empirical Press. Honestly, is this show ripe for a musical episode or what?
So, what else can Younger viewers prepare for? There's so much up in the air.
"I think there will always be hope for Josh and Liza," Sutton Foster revealed of the future of that relationship after the Season 4 finale. "I think Josh and Liza have a piece of each other's hearts. I think that they will always love each other and the capacity of that relationship, I do not know. But I think Liza will always love Josh and I think Josh will always love Liza even though he's now married."
But expect a good deal of Liza and Charles tension as the show progresses.
"The Liza and Charles story will be front and center in season five, no question," Darren Star told The Hollywood Reporter in September. "There is a lot of story to tell there. As writers, we're invested in Liza and Charles' story but at the same time, it's not an open and honest relationship yet. There's a lot at stake for Liza being truthful with Charles."
As the trailer hints, Kelsey will continue to play a "cat and mouse" game with Zane (Charles Michael Davis, who was promoted to series regular).
Season 5 of Younger premieres Tuesday, June 5 on TV Land.