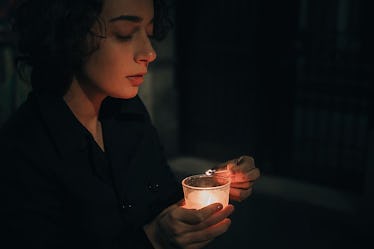 This Winter Solstice Cleansing Ritual Will Help Clear Your Mind Before The New Year
Up until a few days ago, I had no idea that the winter solstice was such a sacred, ceremonial, and anciently revered day. TBH, I've spent my life thinking that it's simply an aggressively cold day that's dark AF and makes me want to go to bed at 3:30 p.m. when the sun sets — but not this year, my friends. This year, on Dec. 21, I will personally be participating in a winter solstice cleansing ritual to clear my mind and balance my energy in preparation for the new year.
People around the world celebrate the winter solstice in so many ways, including watching the sunrise atop vast monuments and temples, gathering to honor and respect the shortest day of the year, and symbolically celebrating the significant shift in nature.
All of these traditions are totally unique to the respective cultures that practice them, but every celebration does have something in common. When you get right down to it, everyone is essentially seeking to center themselves and cleanse their spirits, rid themselves of old energy, and make room for new, good fortune that approaches with the rising winter sun.
You, too, can participate and usher in the winter solstice by partaking in a simple, yet effective solstice ritual. Follow these nine steps during this year's winter solstice to reset, refresh, and renew in preparation for 2018.