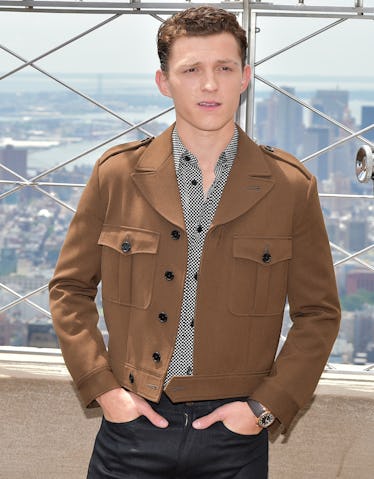 Tom Holland Was A Real-Life Superhero Protecting This Girl From Getting Mobbed
Theo Wargo/Getty Images Entertainment/Getty Images
It's no secret that being a celebrity can be dangerous at times, especially in public, due to so many people crowding around them asking for a selfie or autograph. That's the reason celebs have bodyguards, y'know, to make sure that they're safe whenever chaos ensues. But what about innocent fans caught in the middle of it all? Unfortunately for them, they never know what to expect. Some fans respect the celeb's personal space and wait for the celeb to come to them, but others cross the line and mob the star, which results in absolute madness. While signing autographs in New York City, Tom Holland actually had to intervene because a fan almost had a panic attack after a mob formed. The video of Tom Holland protecting a girl getting mobbed by fans is literally everything because it shows just how much of a superhero he is even without the Spider-Man suit (or superpowers).
It all started on June 24 when a Twitter user known as @NamelessCass (who I'll, henceforth, refer to as "Cass") tweeted that while waiting to get an autograph from the Spider-Man star, a crowd formed, causing her to be "crushed against the barricade." She claimed that Holland came to her defense and told the people shoving her, "I'm gonna throw your sh*t on [the] ground if you keep pushing her."
Take a look at her post:
She then shared a photo of autographs and posters scattered on the ground, supposedly thrown there by Holland.
In a series of additional tweets, "Cass" said that Holland helped calm her down, as she was shaking because of all the chaos. She also said that Holland risked his own safety to ensure hers.
The fan then shared a video of the moment Tom Holland called out the people shoving her. The video is extremely shaky, since people behind Cass kept pushing her against the barricade. You could also see that people threw posters and autographs in front of her as she tried to have a moment with Holland. It was total madness.
At the beginning of the clip, Holland could be heard saying, "I'm gonna throw your sh*t on [the] ground if you keep pushing her," which Cass tweeted earlier.
Cass also told Holland that she felt like she was going to have a panic attack, and that's when the Spider-Man actor reassured her that he won't let that happen.
In the calmest voice ever, Holland said, "It's OK. I got you. I got you."
Watch the video below.
Cass also shared another angle of the mob sent to her by a friend, and like, wow. It's a lot. It really does show just how much people were pushing against the barricade. Unfortunately for Cass, she was right behind it, causing her to get shoved by everyone there.
Thankfully, she was OK and nothing serious happened. Watching the videos back just gave me another reason to love Tom Holland because he is literally a superhero, on and off screen. They really couldn't have cast a better guy to play Spider-Man because, just like his character, he came to the rescue as soon as someone needed saving.