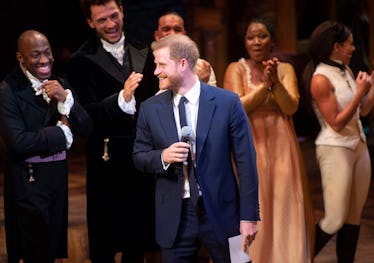 You Have To See Prince Harry Singing 'Hamilton' Because It'll Change Your Life
WPA Pool/Getty Images Entertainment/Getty Images
We hold these truths to be self-evident that no person can listen to Hamilton and not think at least one song f*ckin' slaps. Prince Harry, Duke of Sussex is not immune to this, clearly, seeing as he and Meghan Markle, Duchess of Sussex saw Hamilton in London last night and Prince Harry got on stage and sang. I'm not kidding. It happened. It only lasted about two seconds, but it happened, and a hero audience member caught it on video. The video of Prince Harry singing on stage at Hamilton with Lin-Manuel Miranda right by his side is everything I never knew I needed.
The Duke and Duchess of Sussex strolled on over to the Victoria Palace Theatre in London on Aug. 29 to see a special performance of Hamilton and host a gala for Prince Harry's Sentebale charity — an organization that raises funds and awareness about children with HIV. Harry and Meghan sat with Miranda and his wife, Vanessa Nadal, during the show, then during the curtain call, Harry went on stage to thank everyone for attending and speak a bit about Sentebale.
Miranda joked while introducing Harry that he wrote King George's song on his honeymoon, then "smash cut to 2018 and I'm sitting next to his sixth great-grandson." In case this didn't click for you already, King George III (the singular British character in Hamilton who's on stage for a total of eight minutes) is one of Prince Harry's ancestors.
Miranda apparently tried to convince the duke to sing one of King George's three songs for the show, and this is what happened (!!).
You sayyyyy. While it's no surprise to learn that Prince Harry can't carry a tune, this video is still the most adorable thing I've ever seen. Hamilton is apparently Meghan's favorite musical, and she and Harry have seen it three times already. (I just heard everyone who has yet to see it groan in jealousy.) According to The Sun, she even revealed to an audience member that Prince Harry walks around their house humming songs from the show.
Miranda said it was a "surreal" moment to host the royals at the gala given Prince Harry's family ties to the show. "The Prince's sixth-great-grandfather is a character so that'll be fun and surreal for all of us." He continued, "You get heads of state, but you don't often get a direct descendant of one of your main characters. They said they were huge fans of the show."
People can't get over the video of Prince Harry singing Hamilton.
Here are my parents posing with my other parents!
Here are all of my parents getting ready to watch my favorite show!
And don't worry, Prince Harry met the man who plays his sixth-great-grandfather (who also won an Olivier Award for his performance in the show, which is the English equivalent of a Tony).
"Does anyone know where I can get a crown like this? It's a very nice crown. I would like to have a crown. My brother gets to wear a crown." – Harry at this moment, probably.
Harry and Meghan got the chance to chat with Miranda and Nadal before the show started. Meghan apparently asked if they had seen the production in London yet, which is... the weirdest thing to ask considering Miranda literally created the show, but she asked in order to talk about the U.S. reaction to King George's character versus London's reaction.
"Have you seen it yet in London?" she asked, as if the answer was going to be no, "Because I found it so amazing to watch how that plays versus here and the response is so different. But everyone loves it."
This whole Hamilton/royals interaction has been the best crossover event in internet history. I am very pleased.