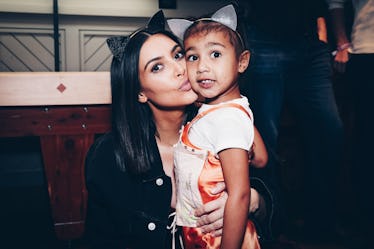 Kim Kardashian Was The Proudest Mom Cheering North's First Runway Show
Handout/Getty Images Entertainment/Getty Images
On Saturday, Sept. 22, North West took a leaf from aunt Kendall Jenner's book as she made her adorable catwalk debut, model strut and spin included. The video of North West's first runway show (shared on proud mom Kim Kardashian's Insta, of course) shows that the 5-year-old is a complete natural — and she's got her Thrilla moves down to perfection. I stan a style icon in-the-making, and something tells me that everyone will be keeping up with the mini-fashionista's sartorial prowess in the coming years.
Saturday was for the girls as Kim K and her eldest daughter enjoyed a mother-daughter bonding moment at the L.O.L Surprise Fashion Show in Palisades Park, California, per Harper's Bazaar. L.O.L Surprise is a collection of dolls, and Northie — who's reportedly a big fan of the toy line — payed homage to Michael Jackson's unique sense of style with her play on the Thrilla doll. Sporting a matching skirt and jacket in a red PVC material along with a black zip-up top and a trendy black box purse, North didn't break character for one second as she strutted down the metallic runway amidst glittery streamers and balloons. A voluminous bun, bejeweled sunglasses, a swipe of red lipstick, and black loafers worn with white socks (no doubt, a nod to the late King of Pop) served the finishing touches to her runway-ready ensemble.
Kim couldn't contain her proud mama feelings, taking to her Instagram Story to share a few clips and a still from the event where the toddler can be seen working it during her solo walk (how cute is that little spin at the end, though?) followed by her stepping out at the end with her fellow mini-models.
Considering that the tot casually has a better wardrobe than me at age 5, the fact that she's exhibited an early interest in makeup and style, and her fashion-heavy lineage with the Kardashian-Jenner clan, it's not really that surprising that she has a penchant for the runway. And while mommy shamers might be ready to go in on Kim for letting her daughter walk a catwalk at such an early age, the reality star insists that North made the call to make her modeling debut at the kid-centric show, which was also walked by other celebrity kids like Busy Phillips' daughter Cricket.
"North is completely obsessed with L.O.L. Surprise already, so when we found out there was going to be an L.O.L. Surprise BIGGER Surprise Fashion show, she absolutely had to be involved," the mom-of-three wrote in a statement, according to Harper's Bazaar. "She loves to dress up like her favorite characters, so it was so exciting for her to actually become a real-life L.O.L. doll."
This is far from the first time that the young star has shown her interest in the beauty and fashion industry. Back in 2016, the toddler turned makeup artist as the then 3-year-old exhibited her cosmetic skillz on aunt Khloé Kardashian. Plus, back in July, she made her fashion campaign debut (in Fendi, no less) alongside mom Kim and grandma Kris Jenner, and was unsurprisingly a complete natural.
It's North's world, and we're just living in it. Plus, is it just me, or would Kim make the best momager?